From lamb rack to deliciously marinated chicken, these three meat recipes will sure tantalise your family's taste buds this weekend
The rainy weather will sure make a perfect backdrop for your kitchen while you try out recipes that let out an inviting aroma from your stove. Below are three of Chef Nono's recipes we can't wait to try this weekend:
Lamb rack with Maille Wholegrain mustard mashed potato: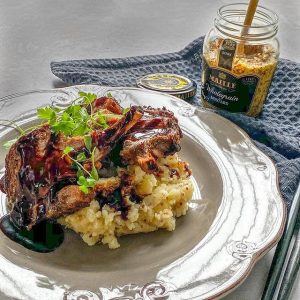 Potatoes
Ingredients:
3 potatoes, peeled, cubed and washed
1 tbsp Maille Wholegrain mustard
1 tbsp butter
Salt and pepper, to taste
Water to cover
Method:
Combine potatoes and water and bring to a boil until potatoes are soft.
Drain water and add butter, salt and pepper and Maille Wholegrain mustard. Mix together.
Lamb Rack
Ingredients:
800 g lamb rack
1/2 tsp garlic & herb spice
1 tsp rosemary, finely chopped
Method:
Rub lamb rack with spice and herbs and grill at 180°C until cooked to your preferred doneness. Enjoy with Maille mashed potato.
Beef Curry: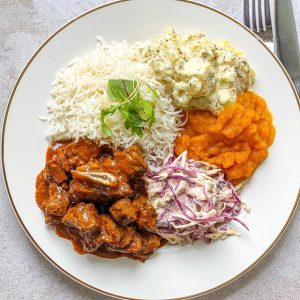 Ingredients:
1.5 kg stew beef
2 medium onions, finely diced
1/4 cup apricot jam
2 whole garlic cloves, minced
1 tbsp curry powder
1/4 tsp salt
1/2 tsp paprika
1/4 tsp black pepper
2 cups beef liquid stock
1 tsp parsley, finely chopped
Method:
Add all ingredients to a slow cooker or pot. Cover and cook on low heat for 2-3 hours or until meat is tender.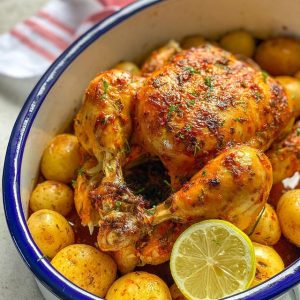 Chicken:
Sauce Ingredients:
4 large red peppers
1-2 fresh green chillies
4 cloves garlic
1/4 tsp salt
2 tbsp lemon juice , freshly squeezed
1 tsp apple cider vinegar
1/4 cup olive oil
1/4 cup water
Handful coriander
Black pepper
Method:
Preheat the oven.
Cut the peppers and chillies in half and flatten them with your hand.
Place pepper and chillies halves, skin side up, on a foil-lined baking pan. Throw in garlic.
Broil for 10-12 minutes or until the red bell peppers are charred and blackened.
Remove from oven and instantly place only the red peppers in a bowl and cover with a kitchen towel to seal. Let it sit for 10 minutes.
Once cool, remove and peel the outer skin off.
Add the roasted peppers, garlic cloves, chillies to a blender along with the remaining ingredients and puree until completely smooth. The exact amount of lemon juice depends on it's acidity, so season to taste with additional salt and/or lemon juice if needed.
Store the sauce in an air-tight container in the fridge for a few days or freeze and use when needed.
Smear the sauce over chicken and roast/grill. Or use it as a dip, as pizza sauce, spread it on sandwiches or pour it over pasta!
Connect with chef Nono on:
Facebook: Facebook.com
Instagram:  Instagram
Be sure to get her new cookbook, order it from her social media account.