Celebrate the new, warm season with your loved ones by trying out our favourite delicious meals from the talented Chef Nono Mtshali
From salads to succulent lamb, there is a meal for every taste bud this spring. Try our favourite recipes from Chef Nono below and let us know how the meal was in the comments:
Pulled Pork Pasta Salad:
Ingredients:
1 cup pulled pork, cooked
1 pack @pastagrande_za Easy Pasta Meals Mild Chakalaka Flavoured
Handful fresh coriander, chopped
2 tbsp honey-balsamic salad dressing
Method:
Cook pasta according to packet's instructions
Combine pasta with pulled pork, coriander and dressing. Enjoy!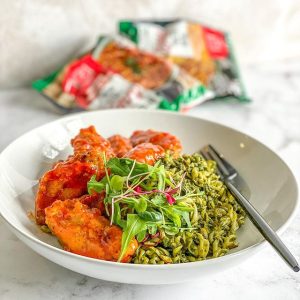 Basil Pesto Easy Meal Pasta
Ingredients:
1 packet @pastagrande_za Easy Pasta Meal Chicken and Mushroom flavoured, cooked
1/2 cup basil pesto
salt and pepper, to taste
Method:
Combine all the ingredients and enjoy with chicken strips pr chicken wings!
(Tip: You can make creamy basil pesto pasta by simply adding fresh cream.)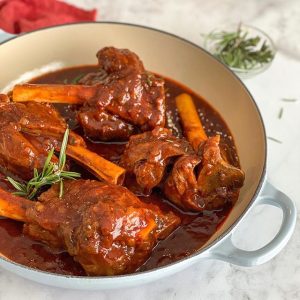 Curried Lamb Shanks
Ingredients:
2 tbsp olive oil
4 lamb shanks
1 large onion finely chopped
2 tbsp paprika
2 large carrots peeled and sliced
4 garlic cloves, minced
2 sprigs fresh rosemary
1 tsp thyme, chopped
1 bay leaf
2 tbsp tomato paste
1 ½ cups red wine
2 cups lamb/beef stock
salt and pepper, to taste
Method:
Preheat the oven to 160 degrees.
Season the lamb shanks generously with salt and pepper. Brown the lamb
shanks in a large oven-proof pot/pan until well-browned on both sides.
Remove from the pan and set aside.
In the same pan, fry the onion, carrot and garlic until soft and fragrant. Add the
herbs, paprika and tomato paste and cook for 30 seconds before adding the
red wine and stock. Allow to come to a simmer then add the lamb shanks back
into the sauce.
Cover with a lid and place in the oven. Allow to braise slowly for 2-3 hours until
the lamb is soft and succulent. Check on the lamb shanks half-way through
cooking and add more stock if necessary.
Remove from the oven and serve.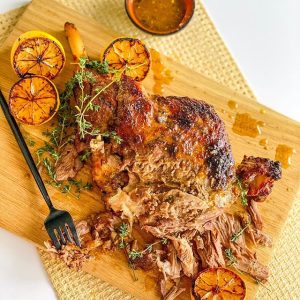 Easy leg of lamb
Ingredients:
Leg of lamb
1 tbsp finely chopped rosemary
1 tsp finely chopped thyme
2 tbsp olive oil
salt & pepper, to taste
Method:
Combine herbs, olive oil and rub leg of lamb, sprinkle salt & pepper all over lamb leg.
Cover with foil and slow cook for 3 hours.
Enjoy!