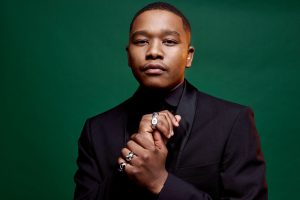 Johannesburg-born Nkosinathi Nhlakanipho Mavuso, also known as Langa Mavuso shares with us his journey in music, his new album, Love Lost, and his success tips for young people
Since the release of the Liminal Sketches EP in 2016, Langa has emerged from under the wing of Black Coffee's Soulistic label as a star in his own right, going on to release Home, Sunday Blues and Mvula to enamored audiences across the country. He tells us where it all began.
Take us back to your childhood, was music a career you wanted to pursue? Why, why not?
As a child, I knew I wanted to be a musician and entertainer. I had my moments of diversion toward the legal faculty and diplomacy but for most of my young life, I knew that I'd love to sing on big stages and travel the world doing it. I grew up watching my parents in choral competitions and rehearsal sessions, seeing them perform on television as a kid made me want to get into the TV and sing with them too, before I knew I had a voice.
 Share with us how you broke into the music industry, what were some of the challenges and milestones you experienced?
I studied drama and music while in high school at The National School of the Arts and my time in that institution showed the impact of building a solid relationship with industry leaders and contributors. I began working in music as a high school student, doing session work for artists. Understanding the process of creating was important in my journey. As a UCT SACM jazz student, I also began to sharpen my performance skills through working corporate events and joining soul and RnB. I learned many lessons from building with that band but also promoting around Cape Town. My big break came when I shared a performance video of my first single Sunday Blues and Black Coffee signed me after that. There have been many challenges during the journey but one that seemed most prevalent to me was being authentic and stern about your voice and story. In the space we work in, we often take in the opinions and voices of others daily, discernment is an imperative skill required to survive here. Many of our challenges will test that part of your being.
  How have you remained grounded and sustained your career in a tough industry like entertainment?
God, my family, and friends come first in my life. I've always prioritised the people who are real and important in my life. The sense and awareness of real love and relating is what reminds me daily of the power of humanity; to love and lift each other up with care and respect. Humility is cultivated in my home with all my anchors and I try not to lose myself daily for me and for them.
 Who and what inspires the music that you make and who will relate more to the messages in your songs?
People and love.
 What is your definition of success and do you feel you have reached it?
Success for me is reaching as close as you can to your full potential through service that utilises all your gifts that lend themselves as tools for your purpose. I haven't reached it but every day, I get a little closer to realising it.
 Covid-19 has impacted the entertainment industry, how have you managed to survive in terms of your career and what were you up to during the lockdown period?
Doing what everyone else has been doing; trying to cope and keep sane, find new and innovative ways to share my work and create new sources of income or letting go of unnecessary costs or items as we move along this unpredictable train.
 What goals do you want to tick off post the virus and in five years to come?
Surviving and living a life filled with purpose and uplifting projects in music and for the community.
 Tell us about your new album,  what is the message behind it, especially your single love lost?
This album is inspired by a heartbreak. In it, I take a moment to look in the mirror and reflect on self through the journey of heartbreak. We see three different phases of this journey play out in the record with every four songs; in the beginning, we reflect on the pain and upset when losing love. This part of the album is filled with ballads that express the initial acceptance of a relationship ending. In the second part we step into a more tumultuous part of the heartbreak; inspired by the sounds of nightclubs and a lifestyle that can be described as a distraction, most of the music here explores a new version of me, a cooler and sexier man, looking for love in all the wrong places in the attempt to avoid dealing with the pain but this charade all ends with a song called Pretend, which shifts my perspective back to internal work and spiritual alignment. In the final part, the artist begins with a prayer for salvation, we reflect on our part in the world and finally accept that Love Lost. This album has been inspired by the true event of my life and sonically weaved into a story that the listener can relate to.
 What are your success tips for young people?
Find your gifts, hone in on them, master them and then find yourself and tell your own authentic story using those gifts and if you work hard and always give it your best, someone's bound to eventually see you.
You can listen to Love Lost here: https://soundcloud.com/weareplatoon/langa-mavuso-lost-love-mix-v1e/s-ibRPNK3Gdbm