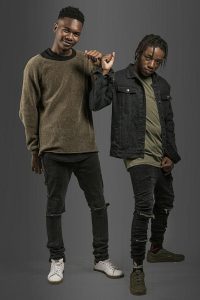 Bringing Hip Hop and Trap Soul together, rap duo H! RoCkY and ElecXious release their debut single 'Grindin' just in time for summer. They share where it all started:
What inspired your love for music, especially for hip-hop?
H! RoCkY: I started making music at the age of 12 and my passion for rapping was sparked when I first heard American Hip Hop artist, Lil Wayne. When I am in the studio recording music I put real-life experiences into my lyrics, this gives my fans the most sincere version of myself.
ElecXious: My love for music was inspired by artists such as Drake, The Game, and AKA. I love making music that helps people build their self-confidence and have self-drive.
How did you meet and why did you decide to form a duo band?
We met through a mutual friend and we didn't have a friendly relationship in the beginning. But music made us close because of our passion for it. when it comes to music we enjoy singing about relationships, daily struggles, social commentary and turning up.
How has your experience of breaking into the music industry been? Share some of your challenges and highlights?
We have discovered that it's not easy fulfilling your dreams, especially when you start from the ground. We had to rerecord our single, Grindin' at a studio after our laptop was stolen. Our highlights are definitely having our songs getting airplay and being featured in some publications.
Tell us about your single, Grindin' what message do you aim to share with your fans?
The single aims to inspire people to dream big and have the work ethic to pursue their dreams.
Who would you like to collaborate with locally and internationally?
H! Rocky: I would love to work with Kwesta and Shekhinah.
ElecXious: It should definitely be Young Swizz, Travis Scott and Nas.
What are your success tips to young people hustling their way to the top of their dream careers or business?
Hi Rocky: work hard, be consistent and don't let anyone try to break your drive. Don't ever think you the best but always work hard to be the best. Always keep an open mind to change n development.
Elecxious: Prayer, Discipline, Consistency, The compound effect and respect time.
Check out their new single and share what you think on the comments below: