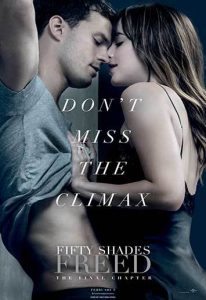 Here's a lowdown on what I thought of the anticipated finale of the 50 Shades trilogy
Amidst the reviews Fifty Shades Freed has been getting, the movie, which came out on Friday, 9 February 2018 expectantly topped America's box office over the weekend. The movie is the last of E. L. James' best selling 50 Shades series, which begins with the newly wedded couple, Anastacia Steele (Dakota Johnson) and Christian Grey (Jamie Dornan) exchanging vows. To be honest, if there's anything that the movie did live up to is the many sex scenes its known for. Take that out, the movie is a simple, predictable love story about an angry ex-boss trying to get even with Mrs. Grey for ruining his career, (although he ruined it for himself for almost sexually assaulting her in the previous movie, does it ring any bells for you? #MeToo). As a sucker for love stories, I did enjoy the plot leading to the happy ending every love story promises. The couple gets married, enjoys their honeymoon, which gets interrupted by Anastacia's previous boss, Jack Hyde (Eric Johnson), who then stalks them to find any means possible to get paid what's due to him (a lot of money), oh then there's a lot of sex in between and Christian Grey not wanting to have children because he doesn't feel ready to share his wife, but amidst that she falls pregnant. Really, I am not dishing out the whole plot, but there is no thrill and suspense that I felt the movie needed to bow out with a standing ovation. Even with Christian's disturbingly controlling nature, it felt refreshing seeing Anastacia not willing to lose her identity and sense of independence, especially when it comes to her career (where she works at a company that was bought by her husband). Is it worth the watch? Considering that it was women who made up 75% of the audience this past weekend (according to Times magazine), it's something you should consider watching with your friends on a girls' night out.
Have you watched the movie? Let me know what you think of it.