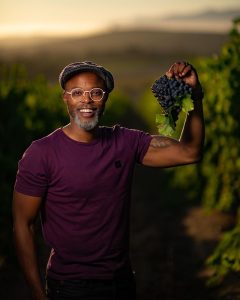 Actor, producer and winemaker Thapelo Mokoena opens up the world of wine and TV-making with the launch of two new YouTube content channels
Award-winning thespian and film-maker, Thapelo Mokoena, is taking his passion for mentorship as well as his bespoke taste in wine to greater heights with the launch of two new YouTube channels aimed at opening up audiences to the world of wine and television. He tells us more:
Tell us about your new YouTube channel, Nero TV, what can audiences expect from it?
Nero TV invites wine curios, wine connoisseurs and lovers of wine to join in on conversations that not only educate consumers about what makes great wine but also introduce viewers to some of the best wines available in South Africa. The show is set to delight consumers by not only sharing my journey as a winemaker through my dark grape brand, Nero, but also broaden the conversation by including other winemakers and brands, so consumers are fully immersed in the rich story of local and international wines.
Also, the world of wine can come across as very daunting for most people, and working with the Bosman Family Vineyards to produce Nero grape has taught me so much about the industry as well as the process of winemaking and this inspired the idea to create a platform that educates and shares some of the knowledge I have gained along the way. One can look forward to digital wine tastings, food pairings, wine reviews, wine eventing, wine myth-busting, distribution and so much more. Nero TV will also introduce you to the benefits of being a member of the Nero Club.
Tell us about your other channel, The Artist Corner
 The Artist Corner is aimed at existing and aspiring actors and actresses. Through the channel, I will be talking to you from my home studio and share my insights while bringing industry experts, on occasion, to share some industry experiences and insights in a bid to equip aspiring entertainers with tools that will enable growth in their artistic journeys. 
As an artist, you receive so many requests for shadowing and mentorship, but it is impossible to sit with everyone across the table and mentor them, so we have used the power of technology to democratise success in the entertainment industry by opening up this world so that artists are able to learn fundamental aspects of the acting and filmmaking from renowned industry heavyweights they are inspired by and look up to.
Whether you're a wine enthusiast or a budding entertainer you can now make a date with Thapelo Mokoena as he shares his two worlds through these immersive channels offering ongoing storytelling and industry insights, together with tips and tasting notes on picking the best bottle of wine for any occasion.
Join the conversation and learn more about what interests you by subscribing to Nero TV or The Artist Corner.