Rapper, singer and songwriter Unathi "King Unstarr" Zibulwana's passion for music led her to produce a song for 2016 Idols winner, Noma as well as winning a female rap competition ran by Brutal Fruit and Slikour On Life, 2017. She shares about her love for music and her success tips to other upcoming artists
What inspired you to be in the music business?
What inspired me was my talent and how people responded to it as well as how music made me feel. It made sense for me to invest my energy in it.
What have been the highlights and challenges of your journey in the music industry?
My highlights have to be wining the rap competition early this year and having my song sung by Noma. Challenges are the means to be self-sufficient. You must be an entrepreneur. A business woman is how I see it and sometimes it's a challenge to fund some of your ideas.
Who, in the entertainment space is your role model and have you had the opportunity to work with them?
I have several who model their roles well to me, I would have loved to work with Busi Mhlongo. But right now, it would be Thandiswa Mazwai, Nathi, Okmalumkoolkat, Kwesta or Rouge. No, I have not had the opportunity to work with any of them yet.
You have produced for the likes of Idols winner, Noma, how was the experience?
It was affirmative and a gentle nod to my writing and I guess singing ability, the song was picked up even though I didn't even pitch it.
How would you define success and what is your strategy for reaching it?
Fulfilling your purpose is how I define success. The strategy would be to study and know yourself well enough to set goals tailormade for your design, and being persistent at reaching those goals.
What is your short-term and long term goal for your career in the music industry?
Short term is really to share my music with the world, establish a relationship with my audience and long term is to write for other artists, learn to produce and play an instrument with some level of efficiency. I strive to be international. The world is so small now with the digital era and I'd like to refine my craft and work with the best in the business.
What is the story behind your stage name?
I have a fascination for stars. I even convinced my mom to accompany me to get it tattooed on my wrist when I was twenty. I am spellbound by space and the galaxy. The King recently came about from my latest song Number 1 and it spoke to me. Women are Kings, I always see a Queen as a subordinate to a King, she's the support and advisor. But I am a King, the neck and the head.
Apart from music what else are you good at and what keeps you busy?
I'm an amazing mother, I've just recently had my daughter and I can change diapers in the dark, I mean come on…I was also practicing yoga and was the star in my class, they'd have me demonstrate some of the Yoga Poses and Asanas. I have tons of energy and I like sport and adventure.
How has KFC Soundbite assisted your music career?
Being associated with the brand gave such a great boost and the fact that I am even being interviewed on this platform is proof of the exposure.
What can we expect from you for the rest of 2017 and in 2018?
You can expect an EP in September and a single thereafter. You can also expect a refreshing voice and sound on the airwaves as I will be performing locally, like now I am at State Theater on the 2nd September 2017.
What are your success tips for people who want to break into the entertainment industry?
You have to be persistent and it's absolutely vital to believe in yourself first. Know yourself and be firm on what it is that's good for you and your career. You cannot let others define you because it's so easy to be swayed and distracted.
Align your focus constantly and literally do not sleep, you have a lot of time to do that when you are dead.
Be humble, patient and always aim to outdo your last work- you are your own competition, "Run your own race".
Also, you must be open minded, learn and evolve. Do not stop, you need a healthy mind and stamina to make it, keep up with the times but remain true to you.
Surround yourself with a solid and brilliant team.
Connect with King Unstarr on:
Facebook: Qoma Zibulwana
Twitter: @king_Unstarr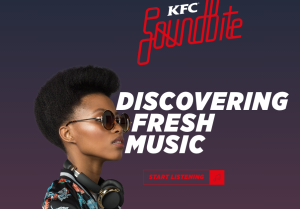 To listen to your favourite artist on KFCSoundbite, purchase any KFC Streetwise meal or KFC coffee and unlock a full track with the 16-digit code you get on your till slip.
Register/ Login to KFCSoundbite.com and click on the plus sign on the menu tab,
Enter the code you find at the bottom of your till slip and click redeem – you will now be able to unlock any 5 full tracks of any artist you choose.
You can also do this by clicking the lock icon next to any song on the chart.