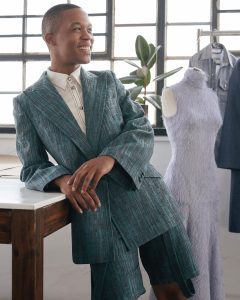 London-based luxury retailer Matchesfashion has launched a 12-month Innovators Programme, and 2019 LVMH Prize winner Thebe Magugu is part of it
Kimberly-born award-winning fashion designer Thebe Magugu, who launched his brand in 2016, has been selected to be part of Matchesfashion's 12- month Innovators Programme, which was recently launched to help keep small fashion businesses afloat during the global pandemic. With many small businesses being forced to close shop, and especially independent designers facing challenges as a result of the Covid-19 pandemic, Matchesfashion has taken a chance on new labels and new designers to help sustain their labels.
READ MORE: Thebe Magugu Meets Vogue Editor and Wins International Fashion Showcase 2019
According to Harper's BAZAAR, the programme encompasses $2.4 million (more than R42 million) in marketing support, one-to-one mentorships, and preferential business terms for 12 womenswear and menswear labels.
Thebe Magugu has made waves in the fashion industry, raising the South African flag high across international stores, runways and magazine features. Recently, one of his designs was worn by Zendaya for her September 2020 Instyle magazine feature. His fashion label is one of the South African labels featured in Beyonce's Black Parade website, which features black-owned businesses around the world.
Source: Harper's BAZAAR.
Image: Instagram