From  pork bellies to barbeque chicken drum sticks and classic beef stroganoff with steak and mushrooms, try these delicious recipes from Chef Nono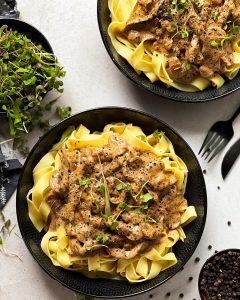 Classic beef stroganoff with steak and mushrooms 
Ingredients
800g beef strips
2 tbsp cooking oil
1 large onion, sliced
300 g mushrooms, sliced
3 tbsp butter
1 1/2 tsp flour
1 beef stock cube
1 tsp Dijon mustard (optional)
2 cups fresh cream
Salt and pepper, to taste
Method
Heat oil. Add beef and cook until browned. Immediately remove onto a plate. Add butter, and melt. Then add onions and mushrooms.
Cook until mushrooms turn brown. Add flour and cook, stirring, for one minute. Add a stock cube while stirring, then add fresh cream and mustard. Stir until incorporated.
Bring to a simmer, then reduce heat to medium-low.
Once it thickens, adjust salt and pepper to taste. Add beef back in, simmer for a minute, then remove from stove. Serve with pasta.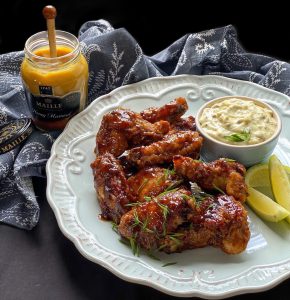 Chicken wings with Maile honey mustard and blue cheese dipping sauce
Sauce ingredients:
1 tbsp Maille honey mustard
80 g blue cheese
1 cup plain yoghurt
Method:
In a bowl, stir together all ingredients, (*except blue cheese), very well until completely mixed.
Stir in blue cheese. (Mix in well, but leave nice chunks). Don't over stir.
Serve as a dip for appetizers, over salads, or use as a condiment on sandwiches.
Wings ingredients:
800 g chicken wings
1/2 cup soy sauce
1/2 cup barbecue sauce
1/2 cup honey
1 cup flour
1/2 tsp salt
2 tsp paprika
1/4 tsp pepper
Oil for deep frying
Method:
Cut wings into three sections and discard wing tip sections. In a small saucepan, combine the soy sauce, barbecue sauce and honey. Bring to a simmer; cook until liquid is reduced to about 1 cup. Meanwhile, in a large bowl, combine the flour, salt, paprika and pepper. Add wings, a few at a time and toss to coat. In a pot/pan, heat oil. Fry wings, a few at a time, until golden brown, 3-4 minutes on each side. Drain on paper towels. Transfer wings to a large bowl; add sauce and toss to coat.
Airfryer BBQ chicken drumsticks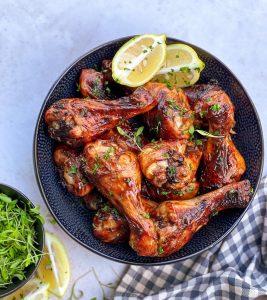 Equipment 
@instantpotsa Vortex air-fryer
Ingredients:
10 pieces of chicken drumsticks
½ tbsp paprika
¼ tsp onion powder
¼ tsp garlic powder
½ tsp cayenne pepper
Salt and pepper to taste
4 tbsp BBQ sauce
Method:
Pat the drumsticks dry with a paper towel then add paprika, garlic powder, onion powder, cayenne, salt and pepper, and a tablespoon of sauce. Mix till well combined.
Arrange the chicken drumsticks in the air fryer basket in a single layer then cook at a temperature of 180° for 15 minutes.
Bring the basket out, flip the drumsticks, return the basket to the air fryer and cook for another 10-15 minutes.
After the 30-minute cooking time, brush all sides of the chicken with the remaining sauce and cook for additional 2 minutes.
Bring out the cooked drumsticks, serve and enjoy.
Note: As chicken drumsticks will vary in size and thickness, so will the cooking times.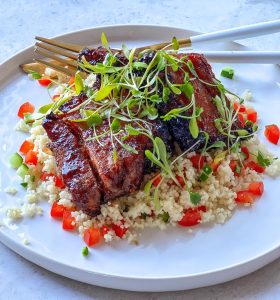 Pork belly
Equipment
@instantpotsa Vortex Airfryer
Ingredients:
700g-1kg pork belly
2 tsp of salt
1/2 cup sweet and sour sauce
Method:
Score the rind of the pork belly with a sharp knife.
Rub salt into the skin, ensuring it goes into the scores. Set aside for ten minutes.
Place pork belly in the air fryer basket skin-side up and air fry at 160°C for 45 minutes.
Check it to see whether the crackling is done to your liking and prevent burning.
Once the pork belly is roasted to perfection, slice it and baste with the sauce and air fry it for a further 3 minutes. Remove it from the air fryer and cover with aluminium foil to rest for ten minutes. Serve!
Connect with chef Nono on:
Facebook: Facebook.com
Instagram:  Instagram
Be sure to get her new cookbook. You can order it from her social media account.
Source and images: Instagram