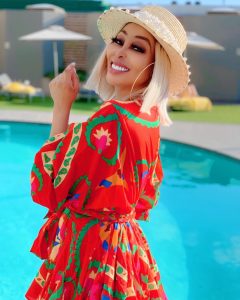 34-year-old actress Khanyi Mbau takes us through her career, joining Castle Lite Ultimate Vibe season two and her success tips
Congratulations on recently winning your first acting award, was fame something you have always wanted?
Thank you so much, I always knew I would be rich and famous it's the when I didn't know.
If you could change one thing about the entertainment industry what would it?
The way government structures don't cater for the industry and yet we are the glue that binds everything pertaining to communication, especially with the masses.
What is the best career or business advice you have received over the years that you implement today?
Your name is your business, look after it, protect it and work hard for it
How do you define success and do you feel you have achieved it?
Success is a state of confidence in your story. Have I achieved it? YES!
What keeps you going when things don't go your way career-wise?
Nothing!!! I panic.
To young people who want to break into entertainment what advice would you give them, from your experience?
Fame is a life of service.
Tell us about your new gig, as the host of Castle Lite's ultimate house vibe, what can viewers expect from you?
I am still the same old OG they love. Viewers can expect fashion, laughter, dancing and emotion.
Lastly, what are your success tips to young people?
Wealth is a lifetime mental exercise. To achieve it you need to believe. You also need to believe in order to be who and what you want to be. PERIODT! (Yes I spelt the word with a T at the end lol )
 Catch season two of Castle Lite's Ultimate House Vibe on Mzansi Magic (DStv channel 161) every Thursday, at 21:30 pm.
 Image source: Instagram