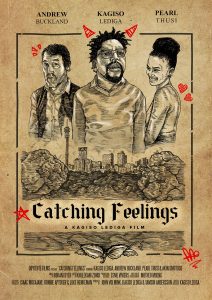 Here's a lowdown on what I thought of the anticipated film, Catching Feelings, directed by Kagiso Lediga
Since the days of the Comic Pure Monate show, I have been a fan of 39-year-old comedian Kagiso Lediga so I excited about watching one of his latest offerings, which already premiered at the Los Angeles Film Festival (LAFF), as well as at the Urbanworld Film Festival in New York last year.
Set in Africa's busiest capital city of Johannesburg the film follows the life of a young, middle-class couple whose love life has reached a dead end. University lecturer, Max (Kagiso Lediga) is frustrated about everything, from the racial and socio-economic situation of South Africa to his marriage, while his journalist wife, Sam (Pearl Thusi) tries to keep everything together until a well known and celebrated author, Heiner (Andrew Buckland) comes into their lives and raffles things up. The film is Lediga's first directing stint, and he moves away from the comic stunts to reflect his view of the reality of many black people.
"Must you racialise everything?" Sam asks in the film, and as the movie unfolds we'll understand why Max does so. His friend, Joel (Akin Omotoso) lends his ears and his shoulder but he also has his own issues to deal with. Sex, drugs, student life, cheating, insecurities, and anger are some of the things that thread the plot of the movie together. It's not epic and neither will you be on the edge of your seat, but it's thought-provoking, and to an extent relatable. The star-studded cast, as well as the plot, make the film worth a watch. It's a perfect movie to watch on a date, as it will give you so much to talk about.
Check out the trailer below:
The film debuts on cinemas this Friday (09 March 2018)
Let me know what you think of it.