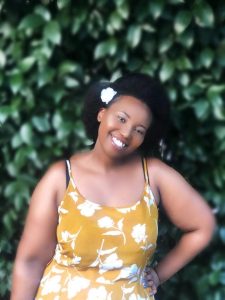 36-year-old Ayanda Halimana is the woman behind SABC 1's successful drama series, Makoti. She shares with us about her passion for television production
You are probably one of the estimated 4.7 million viewers who never misses the weekly drama series Makoti, which has an all-star cast that includes Thulisile Phongolo,  Siphesihle Vasi,  Thina Jaxa, Millicent Makhado and Andile Gumbi to name a few. This addictive television programme aims to interrogate modern-day relationships and marriages, as well as explore some key elements that make or break relationships. KDanielles Media had the honour of speaking with the talented woman behind the drama series. This is how the conversation unfolded:
Give us a glimpse into your childhood, what were your career aspirations?
I was introduced to storytelling by my late grandmother "Mangcobo" in KwaZulu-Natal, in Ezingolweni, where I was born. The two things we did together without fail were praying and listening to Ukhozi FM Radio Dramas. She encouraged me to use my imagination when listening to the stories and would "discuss" them with me to ensure I understood the meaning behind the story. I was drawn to storytelling because in my family there was also my late cousin, Xolani Halimana who would read Macbeth when preparing for his high school events and other novels or plays. My Uncle (uBabomdala uSbu) would also bring me books when he visited. As a middle child, who craved attention but had no friends, I would disappear in these stories and create a world in my head where I was setting the order and rules. Lastly, I can safely say that storytelling is my God-given talent.
Journey us into your career after graduation, share the lessons and highlights that shaped you to be the woman you are today
My career aspirations were actually acting. After matric I went to the Market Theatre Laboratory to study Theatre and stage performance, (I won't mention which group I was in but some of my classmates are now slaying in the industry!)  We had to audition to get in. There were so many people auditioning but I was one of the blessed ones to get in. By God's grace, my then Lab principal Vanessa Cooke hooked me up with Anne Davis, who was working at the SABC Drama Department. Anne was both generous and strict. I was hired in the Drama Department as an intern. I then worked my way up. Television was new and overwhelming to me. I had to work twice as hard. It is during this time that I began doing a lot more courses and attended workshops (I still do).
What have you learned about television production, especially as a writer?
I have learned that good attitude, hard work, talent, respect and prayer will take you really far. I always encourage those who demonstrate the talent but lack the skills to empower themselves. Institutions such as the NFVF and the KZNFC actually offer a lot of support and training programs. Also, for writers. Do get in touch with the Writer's Guild of South Africa, they also work hard to empower Screen Writers
Tell us what your role in making Makoti entailed and what sparked the idea behind this television programme?
In Makoti I was the head writer, meaning I had to oversee the development process; manage deliverables and liaise between clients, writers and production houses. I headed the conceptual phase and drove the story vision from idea to scripts. I was then asked to be the creative producer for the show, which is an amazing opportunity. I'm deeply grateful to Urban Brew and Jacqui – our commissioning editor. I grew in this role. Suddenly, I was part of making the vision happen. This role included participating in auditions, discussing means to ensure what we wrote was budget-friendly and that the product adhered to SABC and BCCSA's code of conduct. I also had to ensure that key crew and cast understood the vision.
How do you define success and do you feel you have reached it?
I honestly think success is peace and contentment. For me, it's not based on what I have or don't have. It's based on me being at peace with myself, the world and God. I'm at peace and I suppose the ultimate success would be knowing that I have done everything God assigned me to do and that I have touched the lives I was meant to impact.
Are there other shows we can expect from you?
I'm wrapping up a show that will air in January 2020. I am soon starting another one. I'm also finally working on my feature film, I recently won a pitch competition in Toronto for it. I also script edit and write features. Most will be in cinemas next year but the first one I worked one I was part of its development team in Uncovered by Zuko Nodada, currently in SA cinemas.
Do you have a mentor and what role have they played in your career or success story?
I have various mentors who advise me at different times and for different things. I really think it's important to learn from everyone and every situation.
Share with us where you see yourself 5 and ten years from now.
In the next 5 years I would like to be producing my own story ideas for both film and TV. I would like to run a successful business. I would like to have worked or be working on big collaborations that expand and reach out globally so I can continue to grow and learn. I'm also passionate about training and skills transfer and so I'd like to keep doing that as well.
Catch Makoti every Wednesday, from 19:30 pm-20:00 pm on SABC 1.