Following the announcement last month of the second annual Cotton Fest taking place in February 2020, festival curator and founder Riky Rick, together with his team, recently launched the festivals highly-anticipated artwork.
The second edition of the festival is taking place on the 1st February 2020 at The Station in Newtown.
Having created great buzz and interest in the culture last year, focus was placed on the creation of new and improved artwork for the second edition of the festival taking place next year.
 As done with all events, the brand logo this year was used on various promotional material including the merchandise, posters, flyers and TV ads.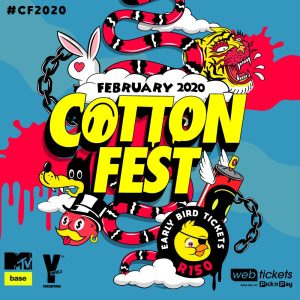 The team realised it's popularity within the sub-culture when various graffiti pieces popped up in and around Johannesburg. Young stylista's adapted the merchandise and kept rocking it at events over the past few months. Social media was abuzz months after the festival took place. The logo had made a statement and wasn't going anywhere.
The design team then worked on a new creative for the 2020 look and feel for the festival. 
Early bird tickets now on sale at R150 (early bird) at Webtickets and Pick n Pay outlets nationwide.
Full artists lineup to be confirmed later this year.
For more information follow:
Facebook @CottonFest
Instagram @CottonFestJHB
Twitter @CottonFestJHB
Source: Supplied
Image: Instagram