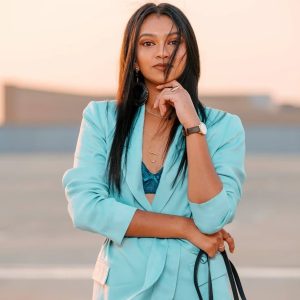 Durban- born fashion editor for Woman & Home magazine, Tiamara Naidoo chats to KDanielles Media about all things fashion this winter, as well as her success tips
Take us back to your childhood, what were your career aspirations growing up?
I grew up loving to play dress up whenever I got the chance! I would mix and match outfits and do extravagant hair styles (that was possible enough at the age of about 8). As I got older I drew closer to fashion designing and drawing. Later on in my high school career I began actually making garments out of older clothes and fabric. This made it easy to follow the path of fashion, which came naturally to me. It became clear to me in my matric year that fashion is where it's at for me! I did a range of recyclable art pieces which resembled dresses out of directory paper, plastic bin packets, tissue and wire. This helped me confidently apply for fashion at Durban university of Technology where I studied a Nation Diploma in fashion for 3 years.
What attracted you to fashion and who has always been your style icon and why?
Fashion was always changing and evolving. I can't say I have a fashion icon, I was never an obsessive follower of celebrities or designers, as weird as that may seem. I took inspiration from everyday life and practicality. I wanted to wear things that weren't out there and outfits that excited me, this is what stirred up my passion.
Tell us about your role at Woman and Home, what does your job title entail you to do?
I am heading fashion at Woman&home. I basically do all our photo shoots inclusive of model bookings, venue, photography hire and styling, I also do celebrity styling. I write articles for the mag and online. I attend events on behalf of woman&home such as new range launches, fashion week, etc. I create content for our readers and followers. I run the fashion in our social media and create content.
What is the best part of your job and what are some of the challenges?
The best part is meeting new people, exploring fashion through different methods of styling and creating new looks. The challenges would be the difficulty of styling celebrities and real women who aren't totally comfortable with you styling them and telling them what to wear. Another is time! We are always busy and out and about to events and shows, so it's quiet demanding and your personal life takes a back seat sometimes.
Tell us about your personal favourite style, when do you feel your sexiest?
My style is feminine and a little tomboyish but the feminine side tends to take over most of the time. Definitely a fit and flare long sleeve dress with high heels and statement earrings!  
How do you define success and do you feel you have reached it?
I think everyone has different goals and success is determined at different stages in our lives. You set a goal and you reach it, it's either a success or not. You can't define if your life has been successful already because it's still on going. If you wake up every day happy and doing what you love with people around you that you love… I think that's quite a success! So far I have reached many goals and been more successful than I have imagined but I still have a long way to go and so my success is an on-going process of dedication and hard work!
Where do you see your self five years from now in your career?
Five years from now I will be my own boss, running my own business and pursuing my passion which is designing. I hope to have my own store and to be an independent designer.
What are your three tips on how to dress up for the office this winter?
Leggings/tight is a must! Wear them under skirts, dresses and even ripped jeans. It will save your butt.
A camel coat. This is chic and sophisticated, it can elevate any look and keep you warm.
Ankle or knee high boots. Keep your court heels in the closet… our ankles are best kept warm.
Lastly, what are your success tips to young people?
Never stop trying and working hard. We may think we have reached a point of success but if you think that way, you will stop doing everything you did to get where you are today. So keep your head focused and your goals in sight. When you reach one goal, aim for another one. You are the only person who can stop your growth and success.
Connect with Tiamara on:
Instagram: Tiamara