For the busy girl, there aren't enough hours in a day to cook for your family, but make time this evening to prepare these delicious recipes.
For some, cooking and hosting come naturally, while others need practice. Don't worry as the Hostess with Lorna Maseko show has you covered with tips and recipes you can prepare to treat your guests and family. Here are two recipes you can try this week: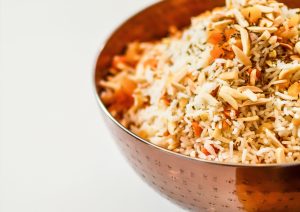 Almond, Apricot & Cumin Basmati Rice
Ingredients:
2 cups basmati rice
100g slivered almonds – toasted
2Tbs cumin Seeds – toasted
100g dried Apricot – chopped
Salt to taste
Method: 
To make the rice simply toss the toasted cumin, slivered almonds, and apricots into hot cooked basmati rice. Serve the delicious curry with the spiced rice, rolled up roti, paw-paw blatjang, and your favorite sambals. We chose tomato and onion sambal and banana and coconut sambal.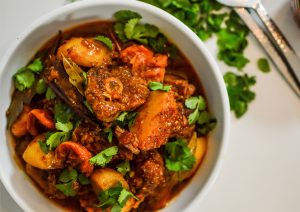 Lamb Curry
Serves 6
 Ingredients:
1,5kg lamb
120g dried peaches
3 x small onions – chopped
1 x thumb-sized piece of ginger – chopped
6 x cloves garlic – chopped
5 x small potatoes – peeled and quartered
2 x cinnamon sticks
5 x bay leaves
1tsp cumin seeds
1tsp coriander seeds
5 x Cloves
2 x fresh chilis – split
2Tbs sugar
1 x small handful curry leaves
3Tbs cape Malay or mild curry powder
1 x tin chopped tomato
500ml chicken stock
60ml sunflower oil
Fresh coriander to garnish
Method:
Heat 30ml of oil in a large heavy-based pot and brown the meat in batches on all sides. Remove the meat from the pot and then slowly fry the garlic, ginger and onions until soft. Once the onions are cooked, add the spices, bay leaves and curry powder and toast for a few minutes. Now add the tinned tomato, stock, chili, curry leaves and sugar to the pot. A dash of Worcester sauce will also help to sweeten the tomatoes.
Return the meat to the sauce and cook slowly for 30 minutes before adding the potato and dried peaches. Cook the curry for about another hour or until the meat is tender and the potatoes are soft and fluffy.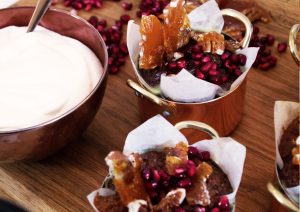 Orange and Anise Malva Puddings With Pecan Brittle and Whipped Cream
Serves 6
Ingredients:
For the Malva pudding batter:
1cup flour
1Tbs bicarbonate of soda
1cup sugar
1 egg
1Tbs each apricot jam, white wine vinegar & melted butter
1cup milk
For the sauce:
150ml cream
150ml milk
50ml sugar
125ml hot water
125g butter
Zest of 1 orange
3 x star anise
Pecan Brittle
80g Pecan Nuts
1cup sugar
500ml Whipped cream to serve
Pomegranate rubies to garnish
Method:
We made our individual malva puddings in small copper pots lined with greaseproof baking cups, but you could use lined muffin tins, ramekins or any other baking dish you choose. Set the oven at 170°C and place a baking dish ¾ filled with boiling water on the bottom shelf, this will help to steam the puddings.
To make the Malva batter, start by mixing the flour, bicarb and sugar into a bowl. In another bowl beat the egg very well and add the apricot jam, vinegar, melted butter and milk, beating well between each addition. Using an electric beater, beat the wet ingredients into the dry ingredients, mixing well. Pour the batter into the prepared baking dishes and bake for 45 minutes until well risen and brown.
While the puddings are baking, combine all of the sauce ingredients in a small pot and simmer on a medium heat until all of the sugar has dissolved and the sauce has reduced a little. Pass the sauce through a strainer to remove the orange zest and start anise. When the puddings are done, remove from the oven, and pour over the sauce.  The puddings should absorb a fair amount of the sauce making them incredibly moist and tasty.
To make the pecan brittle, simply melt the sugar in a pan until it is a light golden caramel colour. Remember that melted sugar burns incredibly quickly so keep an eye on it. Place a piece of greaseproof baking paper onto a cold kitchen counter and scatter the pecans onto it. Pour the melted sugar over the pecans and allow the praline to harden and cool. When it is totally set, break it into shards that you will use to garnish the puddings.
Serve your malva puddings warm with pecan brittle shards, whipped cream and a scattering of fresh pomegranate rubies.
Catch The Hostess With Lorna Maseko tonight at 20:30 pm on SABC 3
Recipe and images: supplied by Greyscale Productions