With over ten years of experience, Pretoria based clinical psychologist and author, Thabang Tlaka shares with us his passion for the field and his success tips  
Give us a glimpse of your childhood. What were your aspirations?
I have always been an inquisitive, creative and sporty child. Owning a gym, coming up with advertisements and figuring and people things out were my preoccupations while growing up. Psychology became my main focus after watching numerous episodes of Dr. Phil and Nanny 911.
What attracted you to the field of psychology?
Initially, I was drawn to the field of psychology by watching Dr Phil finding solutions to difficult life problems. Now that I have been working and practicing as a clinical psychologist for over a decade I realise that the ability to think, reason and strategize is something that moves me. Human beings are confronted by a plethora of life problems and those who are able to navigate the maze of life problems seem to be in charge of their minds, hearts, and destinies. This is what I love about psychology: the ability to fortify the heart and mind against consistent life problems.
What myths can you debunk about psychology in the black community?
There are major and minor falsehoods about psychology: a) black people do not need psychologists, b) psychologists are for crazy people, c) going to a psychologist is like paying someone to be your friend, and d) psychology is an unnecessary evil.
Working in clinics, hospitals and psychology practices provides us with a clearer picture regarding what human beings struggle with. Black does crack when frustrated, arrested by poverty, subjected to trauma and treated as undignified. Black people are human too and we are now starting to see professors, musicians, and leaders struggling with mental health issues. If you have a mind, your mind can be negatively affected by the human condition. There are many black people who reported chronic pain and when assessed are found to be struggling with some form of depression or anxiety.
Mental health has numerous categories. Not everyone is experiencing a psychotic episode. Others struggle with mood, anxiety and personality disorders. There are biological, psychological and social reasons a person may need to see a mental health professional such as a psychologist.
We pay for things we value. Paying for therapy is a direct reflection of how someone values his/her wellbeing. A psychologist is actually the antithesis of a friend as he/she is vested in helping you reach your goals and sometimes this means upsetting you. A psychologist is in collaboration with a client in the act of destroying limiting beliefs, building courage and fortifying the client so that he/she may reach therapeutic goals, overcome a setback or reach one's full potential.
There are a few people who have experienced proper therapy and view it as evil. Helping people become better versions of themselves does the world much good.
What have been the highlights and challenges of psychology?
The wonder of watching people meet themselves is something that one cannot get over. I enjoy watching people being real, fighting for themselves and blossoming. It is a great sight and feeling when I observe people heel, learn and grow.
The challenges of psychology have to be the limited resources, the misunderstanding of the profession and the occupational hazard of seeing human beings for what they are. The more I look in the souls of humanity the more anxious and mesmerised I become. It is very interesting to see how both monsters and angels can live in one mind.
Please define what success means to you and your advice on how young people should view success?
In my view success is being and doing what matters. I would challenge young people to have an honest look at themselves, time and energy levels. Those who spend time being and doing what matters to themselves, their communities and the world are successful. Success is not materialism or meeting false goals set by collective myths. Success is being and doing that which matters and makes the self, the community, and the world better than one has found them.
How can one bounce back from bad experiences?
In my latest book Focus and Flourish I write about: a) If you are living difficult things will come up, b) Pain can be a teacher, and c) There are some things that we would never do unless life hurts. If young accept the above propositions young people would lead productive lives. The one thing that the world cannot escape is the existence of disappointment and pain. These are constants. To succeed and flourish a person has to turn pain into gains, disappointment into inspiration and ache into life lessons. Those who fail to integrate what appears to be negative experiences will struggle in life. Learn to make lemonade with life's lemons.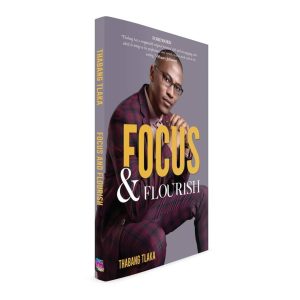 Please tell us about your book, Focus and Flourish, what is it about and who did you have in mind when you authored the book?
Too many people believe in the myth of multi-tasking and are amazed when they miss their goals. In Focus and Flourish, I share insights to help direct one's energies towards goals that matter. People should read the book and understand the essence of prioritising, the benefits of valuing one's mental real-estate, and the art and science of keeping the main thing. Readers should read this book and see how ordinary people achieve extraordinary success by focusing on that which is important. I wrote this book for people like me who think they can be great at everything they do. This book is also for those who are juggling various things in their lives. One stands a better chance at succeeding in life when one decides to become an expert at something.
Who will most relate to the book?
People between the age of 20 and 45. Those who are working on numerous projects and those who are entertaining the idea of giving up on their dreams will find this book helpful. Those who are multi-talented would also find this book helpful.
Do you have a mentor? And what are your views on mentorship? Does one really need a mentor to succeed?
A have a few people a look up to, model myself after and seek their advice whenever possible. Mentorship, when done right is an advantage to one's progress in any field. Success always comes on the heels of other successes. One does not need a mentor in order to be successful, however, a mentor will help one attain one's goals faster. Mentors help with preparation, they help avoid reinventing the wheel and help with relationships that make one's progress faster.
To get the book 
Focus and Flourish can be purchased directly from two places:
Thabang's Offices: Prime Cure Clinic, Cnr. Steve Biko and Madiba, Arcadia, Pretoria.
Or send an email through his website: www.thabangtlaka.co.za
Follow Thabang on:
Facebook: www.facebook.com/Thabang-Tlaka
Instagram ThabangTlaka