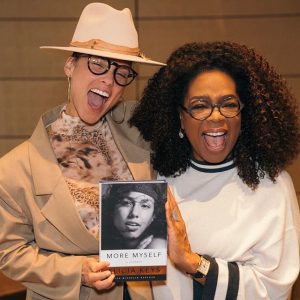 Award-winning singer and songwriter, Alicia Keys will release a memoir later this year, which will be published by Oprah Winfrey's book imprint.
Alicia Keys is adding to her impressive CV her memoir, titled "More Myself," which she is releasing in November 2019. The memoir, which is part autobiography, part narrative documentary was announced on YouTube by Oprah and Alicia Keys yesterday, (14 March 2019). The excited singer also took the news to Instagram, saying, "I can NOT believe this is happening!! My sister, mentor, guide and the QUEEN herself Ms. @oprah helped me share my journey with you, and it's finally here! I could not be more grateful for her endless support and light and love. Thank you, Ms. O, for the opportunity to share my truth as the first release of your new book imprint."
"Our journeys are beautifully woven together and our messages are similar: now, more than ever, it's time to continue to honor ourselves by walking more unrelentingly in our authenticity, no matter what! Thank you for challenging me to become MORE MYSELF."
In the clip below, Keys says that she prefers to have her book known as a "journey" rather than a memoir.
In 2015, Oprah shared that one of her visions was to start a new imprint with Flatiron Books called "An Oprah Book," which would focus on publishing nonfiction stories. Keys' memoir is the first from her imprint and adds in the video, "I have to say that to be able to write a memoir that's about yourself that makes everyone want to be more of themselves, that's the key. And that is what you have done my sister,".
READ MORE: Michelle Obama Opens Up To Oprah In An Exclusive Interview
The 15 time Grammy award winning Keys' further says in the video, " We want to be kind and loving to each other of course, but the goal is making yourself happy," Keys says. "That you are learning more about yourself. That you are able to identify more about who you are. What you like, what you love, what makes you feel magic."
An avid reader herself, Oprah sure knows how to make her mark in any industry she taps into. We cannot wait to read the book.
Image: Instagram
Source: essence.com, oprahmag.com