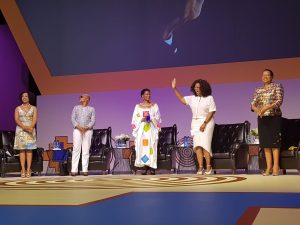 The Nelson Mandela Foundation hosted the Is'thunzi sabafazi event with Oprah Winfrey, to not only commemorate the Nelson Mandela centenary but to also engage about women and children abuse.
Hosted at the University of Johannesburg on 29 November 2018, the Nelson Mandela Foundation held the Is'thunzi sabafazi event during the 16 days activism against women and children abuse campaign, which began on November 25, 2018. After the audience, and the world heard the moving and inspiring keynote address from media mogul, Oprah Winfrey, renowned South Africa held a meaningful conversation about abuse and the #hearmetoo campaign, led by Redi Tlhabi. This is how the conversation went:
Redi Tlhabi: You are the daughter of Graca and Samora Machel, the daughter of Nelson Mandela, these kinds of things don't happen to women like yourself, or do they? What was your mother's first reaction when you said, 'I had been beaten?'
Josina Machel: There were two nightmares after what happened to me. I didn't know how I was going to tell my mother; as well as my children. I was about to go to a life-defining operation and my mother had arrived a few hours before. I held her hand and confessed that I was beaten. My mother was so shocked. She just hugged me and went silent. This is a woman who raised me to leave the minute a man raises their hand on you because that is not love, but the most utmost disrespect. So for her to see her daughter with her eye open, and with the prospect of being blind broke her and I am not sure whether she has healed from it. But that's the painful experience that millions of mothers and women in this continent go through on a daily basis, where they hear of their daughters raped or dead at the hands of men. Their lives are never the same. Survivors of violence like myself battle with issues of trust.
Redi Tlhabi: Doctor Mlambo- Ncuka, globally this is a scourge. Why did you launch the #hearmetoo movement?
Doctor Mlambo-Ncuka: #hearmetoo is a continuation of #metoo, which provided an opportunity for women to call perpetrators to book and to see to it that these men pay the prize. #metoo was an opportunity to show that there are instruments that women can use to take on people who seemed otherwise powerful. There was a time the word consent was not considered; women would be abused and there wasn't a way they could report and expect to get justice. Hence we created a narrative that made consent a requirement. #Hearmetoo aims to support those women who the media would not look at and who we want law enforcement to stand with. These are the children in schools that are abused by their teachers and the workers who are abused by their supervisors
Redi Tlhabi: Sometimes it feels like we only have conversations amongst ourselves as like-minded people; are we making progress in those corners where this message needs to resonate the most and where the change needs to be seen?
Doctor Mlambo-Ncuka: I have to say that as women activists in our time we invested a lot on talking to ourselves and not enough with people we are trying to win over. We have now learned the importance of casting the net wide open. That is why we now work a lot with men because we recognise that men have to be responsible for creating the change that they may also enjoy in society. We are working on mobilising men to stand up and be counted and be active in changing the status quo. We need men to stand up and say, 'I will not marry a child.' Men must end child marriage. Men must decide to not beat up women. And when that becomes the case than case closed. So, the good men who are already walking the talk have to be louder. Women activists are the usual suspects, we are not always able to get through; we also need other voices to take the matter forward.
Redi Tlhabi: Josina, tell us about your movement, what is your message to the world and is that your way of fighting back?
Josina Machel: When this horror happened to me, you would have thought that I would have had access to the best treatment, from the police to the court system and even in the hospital. Like many women, I also experienced files missing in the hospital and even at the police station. I had to report my case twice. The process to get to court took almost 18 months because the files kept disappearing. At the hospital I was not attended to for four hours, I had no access to my phone, I was walking barefoot, bleeding. I would even go on my knees and beg people, saying that I am the daughter of Graca Machel, perhaps they might know a relative or a friend who they can inform that I was at the hospital. That is why I got help four hours later, where my eye bled more than it would have. While I was going through this ordeal I wondered what other ordinary women go through on a daily basis. This propelled me to sit with those who went through this trauma, which distracts the fabric of a family. Those close to me helped me realise that if this could happen to me, what more do other women go through? And that is how the Kuhluka Foundation was born. This is my small contribution in ensuring that what I experienced should not continue happening. We need to ensure that women have reliable services available to them when they need it. We want to restore the dignity of women when they are broken. Through the foundation we create circles of support for these women, to allow the process of healing. Our challenge is to recreate a caring community that stands up when they hear a woman scream and find out what's happening, and call these perpetrators to book; even when they are your sons. A caring community is one that doesn't belittle women when they report crimes against them. Women are in a state of war; the number of women dying on a daily basis is the same number of people who die in wars!
Redi Tlabi: Doctor Mlambo-Ncuka, when it comes to bureaucracy, we encourage women and even men to speak out about their ordeal. I wonder if it's fair to ask survivors to speak out; because what do they speak out for? Have we created a safe landing for survivors to speak out? In the countries where you are present what measures are you taking to unlock efficiency when it comes to their systems?
Doctor Mlambo-Ncuka: since the UN is an intergovernmental system it's important for us that government takes responsibility for protecting, preventing and prosecuting successfully cases of violence against women. Killing a woman is murder and not a crime of passion. There is no passion in killing someone. Every year we help change close to 70 laws in different countries and that is not fast enough. Many of the laws in certain countries legislate women's bodies- a woman's body is the most legislated entity – and in many cases it's the men who drive these laws. So we are working systematically to make sure that we root out those laws. South Africa, fortunately doesn't have that but implementation is our major challenge. We also work with the police to take this matter seriously because our laws our perpetrator-centric. So we are also working hard to change the way laws are made and implemented. There are encouraging practices that are emerging but very slowly since 1 billion women around the world live with some form of violence. If this was a pandemic everyone would be looking for a cure. The fact that there isn't a sense of urgency in this matter means that our laws have created a status quo that makes this normal, and this is why we need everyone to change this culture. Also, change happens when leaders stand up and we don't see enough leaders doing that.
Redi Tlabi: 23% of global decision makers are women and that is where the picture is wrong because there is little representation. With that said, Josina what do you hope for, what would you like to see happen through your activism?
Josina: what I have learned the most is that the experience and pain of women is universal, but healing is possible. Healing will come when people will stand up and say no more. It will be possible when people don't tolerate men disrespecting the dignity of women by abusing them. In order to leave this world a better place for future generations, we need to stop this and stop thinking that someone else will change this situation for us.
Redi Tlabi: Doctor Mlambo-Ncuka, any closing comments?
Doctor Mlambo-Ncuka: first, I want to thank the women who have given birth to movements such as #totalshutdown because there's something about informal ways to get the message across since it complements formal power, which sometimes moves very slowly. As someone who works in institutions and bureaucracy, I need these movements for my work because they give a sense of urgency for us to move forward. We need to hold our governments accountable in making sure that people we pay with our tax, and who are law enforcers protect society, and especially women from abuse. Lastly, men we need you to help make a change because you can do it. We are waiting for men's movement to emerge and to take responsibility in making the world a better place.
How are you taking action against women and children abuse?