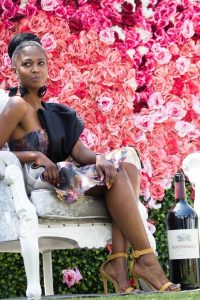 34-year-old Thato Dibetle shares with us about the courage she took to start her business, TT Deco after ten years in corporate
Take us back to your childhood, what were your career aspirations growing up?
I have always been into creative things. My dad was a very good illustrator, he was good with drawing. So my love for that was sparked and influenced from seeing my dad's artistic work. I knew that that was the area that I wanted to follow in my career.
How did you identify a career in architectural interior design from your love of creativity?
This career option happened later for me; growing up I didn't want to do fashion design because I felt it was saturated and I didn't want to do fine art because I didn't want to be a broke artist. I wanted to find a career that will allow me to be creative while I make money from it. So architectural interior was a no-brainer for me because it would bring a lot of income as it would allow me to design spaces and make them look beautiful at the same time.
What exactly does your job entail?
As an architectural interior designer, I do interior design in addition to drafting plans, and space planning, where I design the internal structure of a building. So, in an office space I layout the structure of the office and then do the look and feel, or brand identity of the business. The same applies in house planning, where I suggest the finishing touch of the architectural structure of the house. My job is quite comprehensive and technical it's not just placing scatter cushions on couches. The project starts from beginning to the end.
Journey us into your career before starting your own business, what lessons did you learn in your job that you apply to your business now?
I worked in the commercial space for ten years before starting my own business. I was doing a lot of office space planning and interior designing. I worked for Vodacom, Standard Bank as well as Telkom. I also worked for private companies that do office planning and design. So I gained a lot of experience in my career. This gave me the idea and confidence that I could branch out on my own and do this myself, as a young, black woman.
In my career I learned how to manage time and manage people's expectations. I also learned to have a thick skin and not take things personally, which is very important when you are in business. You always have to make your services about the client.
I started TT Deco in 2012 when I was still in corporate. What sparked the desire to be in business is the fact that there aren't enough black females in the industry. I wanted to be an example to other young people that it's possible to be in any business you want, especially mine, even though it's cut-throat. I wanted to show that you can make money within this creative industry, while I empower and challenge myself.
When did you open shop full time?
My business started off as me just doing furniture, such as reupholster and custom-made furniture because I couldn't operate as an interior designer full time. The interests and demand started growing, and I worked as a freelancer in residential spaces. I then branched out into small office spaces to bigger ones. I worked on my business full time in 2016. It hasn't been easy and I had to take on jobs to get by, but I am still standing.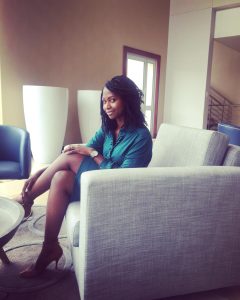 How big is your team and how is your leadership style?
I don't have permanent, structured employees, but I work with and collaborate other small businesses to support my business. I work with a quantity surveyor, an architectural technologist, an in-house designer, and an administrator. So I prefer to outsource to other businesses so we can grow together.
Where do you draw inspiration from when it comes to your style?
Every design brief is unique to the client. I like problem-solving and help bring to life the client's design identity. I treat each project as uniquely as possible. My inspiration comes from being creative and differentiation.
How many clients have you had and what is your dream project?
I have worked with quite a few small, medium and large corporates. My largest client right now is MTN. I also work with Indalo, an accounting firm, HR solutions firms and attorneys who wanted me to revamp their office spaces.
What are your top tips for anyone to keep their home elegant and welcoming?
I always say that less is more, but don't be afraid of colour. Take more chances with your space, don't afraid to add colour, textures, and fabrics. Add signature pieces that will make your space pop and have character.
How would you define success?
Success is being able to do something that you love and enjoy. When you wake up each day and look forward to something, no matter what it is then you have found success. Happiness is also synonymous to success and that comes from being your authentic self and not being a replication of someone else.
Why did you call your company TT Deco?
I was toying with this name while I was day-dreaming about owning a business, in varsity. The name is derived from my name, Thato, which has two Ts. So the name really stuck from when I was still in school.
What are your success tips to anyone who is considering starting their business?
Have a vision, stick to it and work very hard. Time is also your biggest commodity. Use it wisely, and if you own a business, take yourself, and your brand seriously. Give it your all, because whatever you add value to will yield back in abundance.