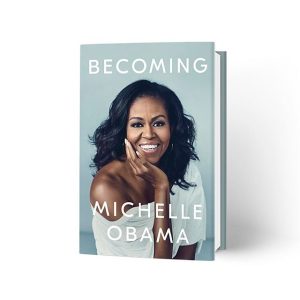 Former first lady of the United States of America, Michelle Obama has broken records with the sales of her memoir, 'Becoming', which released in November 2018
Becoming, the highly-anticipated memoir by Michelle Obama has broken records since its release on November 13.
According to Bustle, Becoming sold 725 thousand copies in its first day in stores and 1.4 million in its first week. In a November 30, press release, publisher Penguin Random House revealed that the book has been named the best-selling hardcover of 2018 — and, at the time of writing, it's only been out for two weeks.
The press release states that Becoming has already sold over 2 million copies in the United States and Canada as if we needed further convincing that Michelle is an icon. According to the Washington Post, Michelle Obama's memoir is now in its sixth printing, bringing its print copies up to a whopping 3.4 million in North America. The memoir is also the number-one seller in a host of other countries, from Britain to Spain; as well as South Africa.
Becoming is 448 pages of pure literary gold and real-life experiences of the former first lady. In it, Michelle remembers her childhood in Chicago, the double standards she witnessed in the White House, and her daughter Malia's prom night, giving readers a glimpse into all parts of her life. An endorsement from Oprah Winfrey and a sold-out, rockstar-style book tour, where even her husband, Barak surprised her- like Jay Z almost always surprises Beyonce at her concerts- are testaments to how the world relates to Mrs Obama.
Have you read 'Becoming?'
Additional information: teenvogue.com