25-year-old designer and businesswoman, Gillian Sarah Paterson, from Scotland, is helping brands build loyal customers one website at a time.
There's something that should keep readers glued, engaged and inspired by any website they visit. This user experience (UX) is the core that keeps customers loyal to your brand as a result of their journey and your interaction with them on your website. Gillian is the face behind a successful bespoke web building and brand solutions company, which offers just that. She started Gillian Sarah Design in 2017 and already worked with more than 100 clients. She shares with KDanielles Media about where it all began, and her success tips to young people: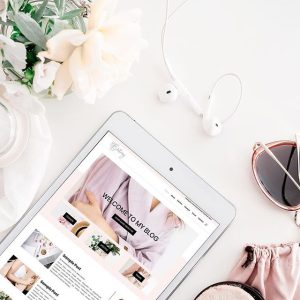 Give us a glimpse into your childhood, what were your career aspirations?
I only wanted to be two things when I was younger, a bin man (not even joking!), and an architect.
What attracted you to designing and branding?
I have always been creative. I think what attracted me to architecture was the designing of the houses, it certainly wasn't the maths.
Journey us into your life after varsity (where and what did you study? What was your first job?)
I began at Aberdeen College studying Visual Communications, which was practically graphic design. I then ventured off into the oil industry where I worked as a designer for five and a half years. Unfortunately, it wasn't as I expected, turns out oil industry designers are more into maths than creativity. I left my job in winter 2017 and took my side hustle of branding and web design full time. It was by far the best decision I ever made!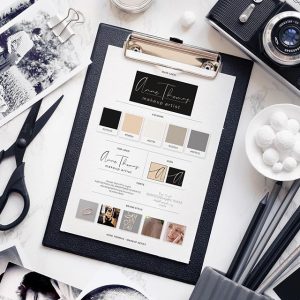 Share with us when you started your business, GillianSarah.com, what were some of the challenges you experienced?
I started out with a few small projects here and there in the evenings from Etsy, from there I can't even really explain what happened, I just scaled up massively. I properly dug into everything in April 2017, by June that year I had taken my corporate job down to part-time, and by December I had left it entirely.
What, exactly are your services and how many clients have you had thus far?
I provide branding and web designs for small creative businesses, a lot of who are in the wedding industry. I cannot tell you how many clients I've had overall, but since the beginning of the year, I have served 105 clients.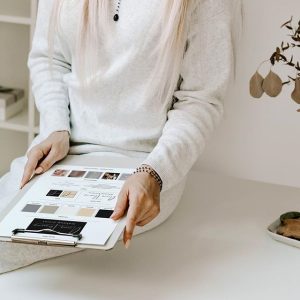 What is your definition of success?
Success is being happy in what you do. You can have someone who makes boat loads of money and is miserable in their job. And you can have someone who is scraping by but loves every second of it. Who would you rather be?
What is your unique selling point as a business?
I am a branding and web designer who specialises in developing heartfelt brands for creative businesses. I choose to focus on passionate small businesses and raising the voices of women with dreams. My attention to detail, video walkthrough tutorials and value for each and every client enables me to truly put my clients at ease throughout the entire design process.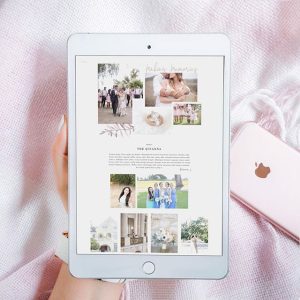 What common mistakes or misconception do most start-ups have when it comes to websites and branding?
Many think they can do it all themselves, they think if they love it then it is perfect. They need to remember that their brand needs to appeal to their ideal client and not just themselves.
Describe your busiest day
Monday… Haha, but seriously, Monday is my day of coffee and weekend inquiries. I think all of my clients are so similar to me where they like to sit at the weekend with a glass of wine and brainstorm.
What are your short term and long term goals?
My short-term goal is to launch my Creative Passive Income masterclass in January 2019 by enrolling a select group of students to work with and build their revenue streams. My long-term goals are to get a few trusted designers on board with me to assist in template customisations for my store, while I head off more along the coaching route.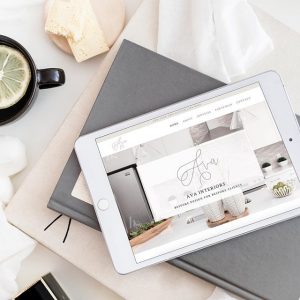 How do you unwind?
Wine and cats… I'm not joking.
Where do you draw inspiration from when it comes to your designs?
I draw inspiration from my clients. Each one is so different. Together we work on developing a brand voice for each business.
Where is your favourite holiday destination and why?
I'm a sucker for Orlando in Florida. I could ride roller coasters all day!
Who are the top 3 photographers or designers to follow on Instagram right now?
My top three photographers would have to be:
– Katelyn James – @katelynjames – she is killing it in the education game right now, and I've actually booked her to shoot my wedding in 2020.
https://www.instagram.com/p/BkN3n6ql33C/
– Megan Kuethen from Holborn Creative – @megankuethenphoto – An AMAZING girl who has built up a fantastic business with a great team behind her.
https://www.instagram.com/p/Bngz7MBhFNF/
– Regeina K Popova – @reginakpopova – A relatively new photographer who is already taking the most stunning images. She's certainly one to watch!
https://www.instagram.com/p/BmUvxq_ndCT/
What are your success tips to young people who are considering starting their own businesses, especially in the digital space?
DO IT! Some of you will instantly succeed, some of you will fall flat on your face, and some of you will work your way up to greatness. But if you sit and think about it for years instead of just jumping in, you'll never know. It's better to try and fail, than always wonder how it would have been.
Connect with Gillian Sarah on:
Instagram: https://www.instagram.com/gilliansarahdesign/
Visit: http://gillian-sarah.com/
Images: Megan Kuethen/ Instagram