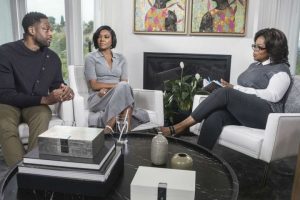 Actress Gabrielle Union and husband Dwayne Wade share with Oprah Winfrey about their journey leading to their first child together, through surrogacy. 
The couple who has been married since 2014 opened up about their experience trying to have a child, from experiencing close to 10 miscarriages to struggling to conceive. "For three years, my body has been a prisoner of trying to get pregnant—I've either been about to go into an IVF cycle, in the middle of an IVF cycle, or coming out of an IVF cycle," she wrote in her memoir, We are going to need more wine. In November 2018, the couple welcomed their first daughter, Kaavia James, who was born via surrogate. And in an exclusive interview with Oprah that aired on OWN, the Union-Wade parents recounted their struggle in the hopes of increasing awareness and visibility around infertility.
Union and Wade wanted to share their story to help those who are dealing with infertility "feel seen," according to Union: "They feel like they're not alone," the actress told Oprah.
The couple recounted their experience going through IVF—having embryos implanted and take, only to miscarry; trying again and again, thinking "you work hard, you do the right things, you're a good person," as Union put it. She "could not let go of this idea of creating this life within me," she added, feeling there was a "need to be pregnant for everybody, including myself."
Wade would get concerned about Union: "I'm watching her do things to her body and to herself that it's getting to the point where it's not healthy," he told Oprah. "And as I always told her: 'I want this baby just as much as you do, but I married you, and you are the most important thing to me.' So it came to a point where, you know, I started to feel a certain way about that because I didn't want something to happen to her.'"
Eventually, the Union-Wades opted for a surrogate—though, Union said she still struggles with her feelings around using one: "Did I miss—did I fail in some kind of way? Did I—am I defective in some kind of deep, you know, just—am I defective in some kind of way? Am I less than in some kind of way? Am I less worthy in some kind of way?"
The couple was involved throughout their surrogate's entire pregnancy, "trying to feel as a part of the birth process as possible, since it's happening outside of both of us. But it's been a long—a long journey," Union said. They were at the hospital when their surrogate was in labor, and described the experience of being in the delivery room with her and her husband as deeply bonding.
"So many people are suffering in silence and every time, when we're candid and transparent about our journeys, no matter what those journeys are, you are allowing people to be seen and heard and empowered in ways that they've never been," Union told Oprah.
Watch the full interview below:
https://www.facebook.com/ownTV/videos/291438344843876/
Photo credit: Francois Mori