Black Friday is upon us and since it is the season of giving,  Rihanna is offering her Ultimate Gift Guide from her Savage X Fenty Collection at a discount
Rihanna's Savage X Fenty will not be immune to the Black Friday fever, as she's offering 50% discount off everything in her collection for a limited time! The singer and entrepreneur, dubbed as Santa Riri made the announcement on her Instagram page, posing in one of her underwear collection.
https://www.instagram.com/p/Bqfc2QHhOrf/
Rihanna has mastered the art of inclusivity in her fashion and beauty brands. Her underwear Savage collection caters to women from sizes 32 A to 44 DD. (Sorry gents, this might sound foreign to you). The singer says about the brand, "My vision for Savage X has always been inclusivity, has always been having women feel confident and expressing themselves through a little lace, a little corsetry, a little T-Shirt Bra."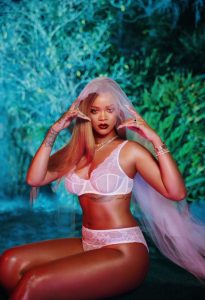 From pyjamas to lingeries and underwears, Savage X Fenty is the perfect gift idea to spoil yourself or your friends with this season.
Shop: https://www.savagex.com/