The much anticipated first official trailer for The Lion King live-action movie starring a star-studded cast has arrived, and it is extraordinary.
The film, which was first announced in April 2017 will be released in July 19, 2019, but the trailer, which was published yesterday (22 November 2018) is enough to win fans. The trailer trended top 30 on YouTube, earning almost 6 million views. The one-minute clip, opens with the African savanna setting but this time with a real-life effect.  Variety reports that the realistic setting will be created with a combination of live-action and CGI. Of course it teases us with the adorable baby Simba and a brief appearance from Rafiki, the baboon.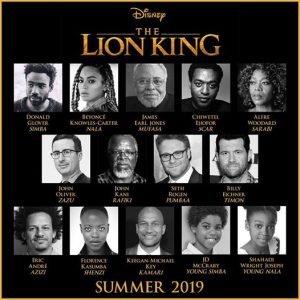 The cast includes: Donald Glover as Simba; Chiwetel Ejiofor as Scar; Alfre Woodard as Sarabi; John Oliver as Zazu; John Kani as Rafiki; Seth Rogen as Pumbaa, Billy Eichner as Timon; Eric Andre as Azizi; Florence Kasuma as Shenzi; Keegan-Michael Key as Kamari; JD McCrary as Young Simba; and Shahadi Wright Joseph as Young Nala and Beyonce as Nala.