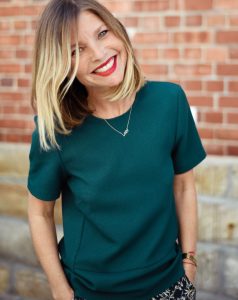 Having started her career as an intern to being an editor and Associated Media Publishing Group Brand Director, Emilie Gambade, knows the importance of hard work. She shares her career tips to young people
Share with us what makes you passionate about media, especially print and digital media?
I absolutely love that it is a fast-paced, ever-changing industry based on the art of story-telling, be it in print, video or digital. The way we tell and report stories has expanded incredibly in the last decade; we have now a multitude of platforms on which we can communicate and share, which means that we can reach broader audiences. Every time we work on a new story, every time I see it coming to life, my heart dances.
You started your career in magazines in 1997 as an intern and rose the editorial ranks to editor and now brand director, what important career lessons have you learned as a woman over the past 20 years that someone starting out their career can also learn?
The most important lesson I've learned is that it takes time – Rome wasn't built in a day and that's perfectly okay. The process of growing (and aging!) is a beautiful one: each step I made brought its load of experiences, learnings, encounters and magic. There is no way I would be where I am today if it weren't for all the experiences I had before; the not-so-great-want-to-run-away times as well as the wonderful ones.
Have you had role models or mentors that guided your career journey? If so, what advise did that give you that you still apply in your career?
My first editor's letter was about the fabulous women who mentored me, believed in me, shared with me their wisdom and paved the way…
Few advices I never forgot:
There are no stupid questions; if you don't know, ask. If you still don't understand, ask again.
Come prepared: if you don't, you'll be wasting yours and everyone else's time.
Hold hands and stick together because it is so much more fun when you do.
Don't gossip, don't spread someone's secret or information.
Share with us what your role as brand manager entail and describe your busiest day
Not one day is the same! My role merges editorial, strategies and commercial; I usually arrive at the office around 9am, have a brief editorial meeting with the Marie Claire team (which we call a 'stand up'), then check emails and then it is often back-to-back meetings until 3pm; the work spans from editorial to digital and commercial campaigns, key collaborations, innovative projects etc. – what I prefer? Team work and creative brainstorms.
Congratulations on the success of your inaugural Marie Claire Power Summit, what was your biggest highlight at the event, and what did people miss out on?
It really is difficult to extract one thing that stood out because I have loved every single minute of it (but I am biased!).
The energy and power in the room was tangible. I loved listening to Redi Tlhabi, Suhana Gordan, Lindiwe Mazibuko – whose talk on political education and women supporting one another was unbelievable – Nomzamo Mbatha, Uché Pezard who gave us such a great perspective on African luxury, the tech panel with Aisha Pandor, or Catherine Constantidines, Busi Mkhumbuzi, who is such a powerhouse and an inspiration; I loved listening to all the speakers who were with us on the day.
Few quotes to take away:
"Protect your space and your peace" (Terry Pheto)
"I'm only obsessed with the appointment I've set with the universe, not with what the world thinks of me" (Nomzamo Mbatha)
How would you define success and what are your success tips to young people navigating their life purpose and career paths?
You know the saying that goes "what matters is the journey, not the destination"… I think it is the same with success.
What matters is not success, it is the pleasure of achieving your goals, one by one.
I believe in planning for your dreams: take the time to sit and set your goals, what is it that you want to achieve, picture what it would look like, and when it will happen. Draw the map that you think would lead you to reach your goal, what does the road look like, what changes or tweaks do you need to make. And then set off and go for it!
Connect with Emilie on:
Instagram: @emiliegambade
Twitter: @EmilieGambade