The 22-year-old Bumblebee  co-star, Jorge Lendeborg Jr, born in Santo Domingo, Dominican Republic is the star for women empowerment
You might know him as Nick Eisner on Love, Simon, where he played one of Nick Robinson's best friends in the gay teen rom-com, as well as Spider-Man Homecoming. The star recently told Teen Vogue that Bumblebee has "heart" underneath its metallic exterior. He further says, "I feel like this movie does a great job at creating empathy and has so much heart and so much emotion," Jorge says. "I think also it's a great coming-of-age story, it's something that kids can see themselves into. It's a girl who's gone through traumatic things in her life, and getting past 'em."
He also couldn't hide his excitement about being part of the film when he told British Vogue that he was always a huge fan, and enjoyed the original movies, as well as the cartoon. "It's definitely a dream come true (to be part of the movie)" He says.
About working in the production Jorge says that it was so exciting to be a part of the big spectacle of movie making. "I find it so fun to be in a big studio and see everyone doing their different jobs. I consider myself a fan of the process, so that was really cool. The most memorable parts are the explosion scenes. You can wait all year for fireworks or you can just make a movie and wait for the explosion. It's way better."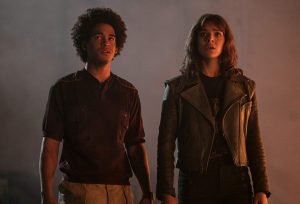 Jorge also found it fascinating working with co-star Hailee Steinfeld, as she really demanded the camera, was so professional and taught him to make use of everything, to be technically aware and to understand how editing works.
How does it feel to be a young man entering the film industry in today's climate?
When it comes to being a young man in Hollywood's climate Jorge told British Vogue, "I feel like it's a change that was needed but honestly it doesn't change anything for me as far as work. The only scary thing is that it does create a bit of hysteria which seems a little bit over the top – sometimes you've just had a bad date but the girl feels entitled to something. Then again, like all positive movements, there's always a little bit of unwanted effect for the positive change that we're fighting for. This is an issue, not a movie. It's kind of messy."
READ MORE View From Idris Elba On #MeToo Movements Impact In Hollywood
Jorge also mentions that the film epitomised the empowerment of young girls and has a message that they should be and do anything they feel like. "I feel like we do a really good job at flipping the gender characters in these movies. I'm the guy but I'm more of a sensitive type and I have weird hobbies, I'm more eccentric and then Hailee is way more stoic and she into things that are normally considered boy things but they shouldn't be, they're for everybody."
Catch Bumblebee from 21 December at Cinemas, nationwide.
Source: Teenvogue.com, vogue.co.uk