Are you wondering what to make for dinner this week? Here are four healthy and hearty recipes that are easy to make and enjoy with your family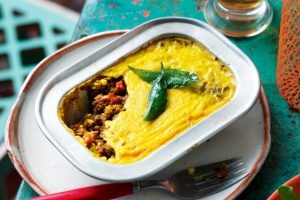 Winter Bobotjie – The Low Carb Way
Serves: 6-8 | Ready in 60 mins
Ingredients:
2 tbsp. coconut oil
1 large onion, finely chopped
1 tbsp. curry powder
1 tsp. turmeric
1 tsp. cumin
1 kg ostrich mince (or lentils / mixed veg)
1 tsp. Himalayan Pink salt
1/2 cup dried cranberries, soaked in hot water
5 eggs (or 2 tbsp. tapioca flour)
1 cup coconut cream
Pink Salt & ground black pepper
4 bay leaves
Instructions
Prep Work
Preheat Oven to 180°C
Lightly grease oven-proof dish with olive oil spray
Step 1:
Heat the coconut oil in a large pot, add the onions and sauté on medium heat.
Add all spices and cook until onion is soft, slightly browned and fragrant.
Add ostrich mince along with 1 tsp pink salt and allow to simmer until the meat is cooked through.
Step 2:
Drain the water from the soaked cranberries and add them to the cooked mince. Sauté for 2-3 mins to allow flavour to seep through. Remove from the heat
Step 3: Prepare custard
Whisk 3 eggs together with coconut cream and season with pink salt & ground black pepper.
Combine remaining 2 eggs into the curried mince mixture and scoop it into a lightly greased oven-proof dish.
Step 4:
Pour the egg & coconut cream mixture over the ostrich mince and place bay leaves on top.
Bake at 180°C for 45 minutes.
Serve with a green salad or some shaved almonds or a sugar-free chutney
For batch cooking, simply cut into servings, place each serving in an airtight container (preferably glass) and freeze. Defrost servings as required.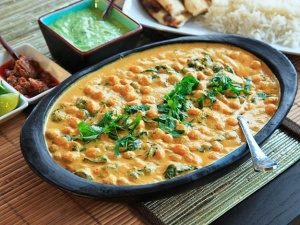 Creamy Vegan Coconut and Chickpea Curry
Serves 4 | Ready in 30 mins
For The Spice Mix:
1 1/2 teaspoons whole cumin seeds, toasted
1 1/2 teaspoons coriander seeds, toasted
1 whole star anise, toasted
2 cloves
1/2 teaspoon black peppercorns, toasted
1/2 teaspoon ground cinnamon
1/4 teaspoon grated nutmeg
1/2 teaspoon ground turmeric
1 black or green cardamom pod
For the Curry:
3 tablespoons coconut oil
1 small onion, finely minced
4 cloves garlic, grated
1 tablespoon fresh ginger
1 small red or green chili, finely chopped
1/4 tsp. cayenne pepper
1/2 cup cashew nuts
400ml coconut milk
2 cans chickpeas, drained and rinsed
1 bunch flat spinach leaves, trimmed, rinsed, and roughly chopped
Pink salt to taste
1/4 cup fresh juice from 3 to 4 limes
1/2 cup fresh cilantro leaves and tender stems, coarsely chopped
Instructions
Step 1: Prepare Spice Mix
Mix cumin, coriander, star anise, cloves, peppercorns, cinnamon, nutmeg, mace, turmeric, and cardamom in a spice grinder and grind to a fine powder. Set aside.
Step 2:
Heat coconut oil in a large saucepan over medium-high heat until melted (or until oil is shimmering). Add onion, garlic, ginger, and chili. Cook, stirring frequently, and scraping the bottom of the pan until golden brown and starting to burn in spots for about 10 minutes. Add cayenne, cashews, and half of spice mixture. Cook, stirring constantly until fragrant, about 30 seconds. Add coconut milk and remove from heat. Scrape up any browned bits from bottom of the pan.
Step 3:
Transfer mixture to a blender and starting a low speed, slowly increase speed to maximum. Blend until smooth, about 30 seconds. Return mixture to the pot. Add chickpeas, spinach, and remaining spice mix and cook over low heat, stirring constantly, until vegetables are heated through and spinach is wilted about 10 minutes. Add salt and lime juice to taste. Stir in half of the cilantro.
Step 4:
Transfer to serving bowl, sprinkle with extra cilantro and serve with lime wedges, brown basmati rice or cauliflower rice for a low carb option. I also like to use this curry as a filler for cauliflower wraps.
Middle Eastern Chicken Cauli Wrap
Serving Size: 4
Prep time: 50 mins
Ingredients for Cauli Wrap
1 cauliflower head cut into florets
4 tbsp., psyllium husk
2 eggs
1 tsp. salt
1 tsp. mixed dried herbs
Coconut flour for dusting
Ingredients for Filling
1 cucumber – sliced into julienne strips
2 large tomatoes, sliced
6 tbsp. natural Tahini
6 chicken breasts – cut into strips
1 block feta cheese – crumbled
2 avocados – sliced
1 tbsp. coconut oil
1 tsp. crushed garlic
1 tsp. dried rosemary
1 tsp. dried oregano
Salt and Pepper to taste
Instructions
Step 1: Prepare Cauliflower Wraps
Steam cauliflower florets until soft.
Drain excess moisture and place into a food processor until cauliflower has a crumbed appearance
 Remove cauliflower from blender and place in the middle of a kitchen cloth.
Wrap the cauliflower in the cloth and gently squeeze to remove any excess moisture
Place cauliflower in a mixing bowl.
Add egg, psyllium husk, herbs and salt and mix together thoroughly to form a dough.
Use coconut flour as a dusting agent to prevent sticking. Dust your hands with coconut flour too as the mixture can get sticky
Break dough up into four portions
Lay each portion out onto a well-dusted surface, coating with coconut flour each time
Use a rolling pin to flatten dough and shape into round wraps
Roll very gently as this is not as malleable as normal dough
Once wraps are prepared, dry fry in a large flat frying pan, until lightly browned and then flip wrap to cook the other side.
Remove from heat once cooked and leave aside to cool
Step 2: Prepare Chicken
Cut chicken into thin strips
Heat coconut oil in large frying pan on high heat
Add dried herbs and garlic and fry for 30 seconds
Add chicken, salt, and pepper
Reduce heat to medium and sauté chicken for approximately 7 minutes until cooked through completely
Remove chicken from heat and cover until ready to use
Step 3: Build Wrap
Place wrap on chopping board
Slice tomatoes and cucumbers.
Pile cucumber strips and tomato sliced flat in the middle of the wrap
Add chicken strips and avocado slices
Top with tahini and crumbled feta
Roll wrap and hold together using a toothpick to keep wrap sealed
Repeat the above with the remainder of wraps.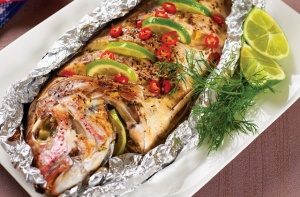 Chilli-Lime Coriander Dorado
Ingredients
1 large dorado fillet (or fish of your choice – hake, kingklip and salmon work well too)
½ Thai red chilli-chopped
1 tsp. crushed garlic
1 tsp. crushed ginger
2 tbsp. fresh lime juice
1 punnet fresh coriander – destalked
2 tbsp. olive oil
2 tbsp. macadamia nut oil
1 tsp. raw honey
2 tsp. dried organic parsley
2 tsp. dried organic oregano
2 tsp. Himalayan pink crystal salt
1 tsp. ground black pepper
1 fresh lime sliced into quarters
Garnishing:
1 fresh lime sliced into quarters
½ Thai red chili-sliced
A handful of coriander leaves
Instructions
Step 1:
Prepare Marinade
Place macadamia nut oil, ginger, garlic, coriander leaves, lime juice, honey, oregano, parsley, salt, pepper half Thai red chili into a food processor and blend thoroughly until a thick green marinade forms.
If too thick, add a little more lime juice and a small amount of water
Step 2:
Line large ovenproof dish with tinfoil.
Place dorado fillet in the center of tinfoil
Poke dorado fillet with a fork and drizzle a little olive oil over
Step 3:
Pour marinade over dorado and spread evenly until entire fillet is covered with marinade.
Cover oven-proof dish with tinfoil
Step 4:
Bake Dorado fillet at 180⁰C for 10 minutes
Step 5:
After 10 minutes, remove fillet from oven
Remove tinfoil covering
Add sliced lime, chilli and coriander leaves to garnish
Place fillet back into oven
Place oven on grill
Grill for 5 minutes
Serving Suggestion
Serve hot with a side of steamed Brussels sprouts, asparagus, assorted steamed vegetables or a side salad
These ingredients are supplied by Cara Lisa:
http://www.caralishious.com/recipes/lunch-dinner/winter-bobotjie-the-low-carb-way
http://www.caralishious.com/recipes/lunch-dinner/creamy-vegan-coconut-and-cickpea-curry
http://www.caralishious.com/recipes/lunch-dinner/middle-eastern-chicken-cauli-wrap
http://www.caralishious.com/recipes/lunch-dinner/chilli-lime-coriander-dorado
Connect with Cara Lisa on:
Twitter: @cara_collective