There are many ways successful go-getters start their busy day, and breakfast should be one of them. This is why
Our mothers were right, breakfast is the most important meal of the day. Experts back up this up with the fact that this meal provides us not only with the energy that our bodies and minds need but it's an important source of calcium, fibre and vitamins. Many of us are culprits of making breakfast the least of our priorities, especially on a busy morning but sparing at least 10-15 minutes to having breakfast can make all the difference throughout your day. These are seven reasons you need to prioritise having breakfast every day.
It provides your mind and body with energy: Your body has been resting and 'fasting' for eight hours (or less) overnight and it needs a nutritious meal to be fuelled with energy for concentration and, yes, weight loss.
It maintains weight and promotes weight loss: Contrary to what most people think, skipping meals, especially breakfast does not help with weight loss as you end up having uncontrollable unhealthy cravings and consume more calories. Breakfast actually kick starts your metabolism and helps you burn calories throughout the day.
It improves your mood and stress levels: A lot of research has been done on why we need breakfast and results have found that skipping breakfast does affect your memory and what you put in your body ultimately affects your brain function, and ultimately your mood.
It boosts your immune system: According to studies, people who have breakfast are less likely to have respiratory illnesses and colds as a healthy breakfast boosts your immune system. What a delicious way to keep the doctors away!
Below are our favourite top 4 quick breakfast meals you can make and grab for the road: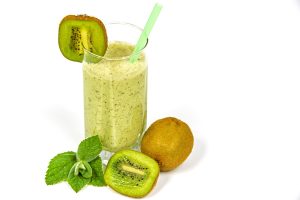 Smoothie:
Blend your favourite frozen fruits with yoghurt and squeezed fruit juice, like oranges.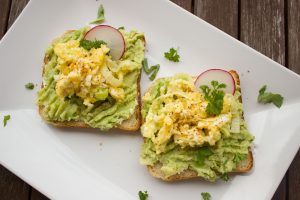 Eggs:
The best thing about eggs is that they are a great source of protein and Vitamin D, plus, they literally take less than five minutes to prepare. Be creative in how you prepare your egg sandwich or meal.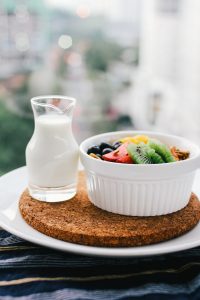 Fruit Salad
Mix your favourite fruits in a bowl and you are good to go. You can also blend with quinoa for a crunchier taste.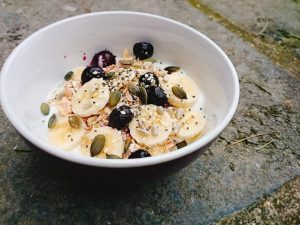 Yoghurt
A rich and delicious source of calcium, yoghurt is best enjoyed on the go or blended with your favourite fruits.
Breakfast may be the last thing on your mind when you have a very busy schedule ahead, but a quick healthy meal is worth a few minutes of your time. So refuel your body and mind to successfully slay your day.
Do you often have breakfast? If so what's on your daily menu?