28-year-old Akhona Sifumba from Paarl, in the Western Cape, shares with us how the death of his partner led him to be a single father, how he is managing being a dad and his message to other fathers.
I was born and am based in Paarl, in the Western Cape. I currently stay with my mom, my daughter, Thandwayo, and my late sister's child. I'm a single father and my mom helps me with raising my daughter. The reason I am a single father is that my girlfriend and baby mama, Nandipha, passed away in June 2018. We were close and in love. To this day, I don't know how she died and am still looking for answers for when my daughter asks, 'where is mommy?' when she grows up one day. My story is one of hope, and I wish it inspires all young parents, especially fathers, who might be going through challenges currently.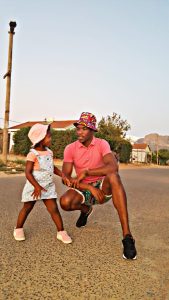 In early 2018 I lost my sister, who left behind her child. Because of that, I was mainly based in Paarl to be there for my mother. That year, on June 17, I went to Gugulethu in Cape Town to visit Nandipha and our daughter to spend time with them. For the two days I was there, we had fun and painted a great family picture in our flat, where Nandipha stayed.  On June 19, I didn't know I would see my partner for the last time when she and my daughter accompanied me to the bus stop as I had to travel almost 60 kilometres back to Paarl as I had to go back to work the following day. When I got back home in the evening, I texted her but she didn't reply. I thought she was busy. I then texted her on Facebook, but there was no reply as well and thought she had already gone to bed. The following day, I texted her again, wanting to find out if she and our daughter were okay. There was still no reply, but it didn't raise any alarm as yet. During lunch, at work, I called her but she didn't answer her phone, and I thought she was busy at work. Three days later, I started getting concerned about why she didn't respond to my texts or calls. On the fifth day, I started to panic and called her cousin to find out what was going on. She also said she tried to contact her but Nandipha was out of reach.
A day later, her cousin called me and told me that she got a notification that Nandipha didn't report to work for almost a week and that raised a lot of questions. I asked her cousin to check up on Nandipha at her flat. She went there and knocked, but there was no reply and she thought Nandipha was not at home. Moments later, while I was still at work, I got a call and was told to sit down as the news was broken to me that Nandipha and my baby passed away. My daughter was 10 months old at that time. Things just went blank, I felt dizzy and collapsed at work. My colleagues took me to the back and asked what was going on. I told them the news and my manager sent me home. The following day, I went to our place in Gugulethu where I found Nandipha's cousin and her boyfriend. The paramedics told me that my daughter was alive when they found Nandipha and took her to Red Cross Hospital where she was admitted for three months. We don't know the cause of her death as they found her lying in bed. Her body was starting to decompose and I couldn't afford any post-mortem tests. My daughter didn't eat anything and was highly dehydrated during those days, so much so that even the doctors could not explain how a 10-month-old baby could survive all this trauma as even an adult cannot be sustained for five days without eating or drinking anything. That alone, changed my life.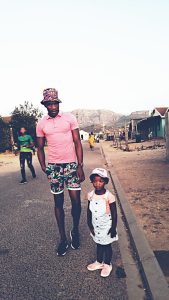 It's not the first time I lost someone that I loved. My high school sweetheart also passed away before I met Nandipha who I wanted to spend the rest of my life with. This experience changed a lot of things and took me to another level of life. It was too much to handle. I started to fall into depression and anxiety. To make things worse, my partner's family wanted full custody of the baby as I was not married to their daughter. It was too much having to fight for my child and deal with the loss of her mother at the same time. My mind was not in the right state to cope with everything. Nandipha had two miscarriages before Thandwayo was born.
Thandwayo is not the only child I have. I have another six-year-old child who I don't spend as much time with as I would like as her mother is difficult to deal with. I also have a four-year-old boy.
To me, fatherhood is very difficult, especially if you don't live with your children. Add the coronavirus to the situation and it doesn't get any better because of lockdown. You have to hold your head high, hustle so much to provide for your children and put up with a lot of social pressure. Being strong is not easy, and sometimes not possible. And it is hard to not be able to show any signs of weaknesses to people around you and you end up bottling things inside. Losing Nandipha in 2018 was an entrance to fatherhood that is different and painful. I won't lie, this is the kind of fatherhood I don't wish upon any other man.
But if there is any lesson or advice I would give to my children, it would be live your life to the full because you don't know if tomorrow will really come. I don't know how I will answer my daughter's question one day because she thinks my mother is her mother. But time will heal everything. At least that is what I hope.
Sharing my story makes me feel much better now. Had I been asked to share my story months or even a year ago, I don't think I would have been able to do it. I was too traumatised, especially in 2019. When I see or hear about death, it takes me back to my experience. My daughter is a very beautiful and bright girl and I am proud to be the father of such a strong, miraculous child. My message to other fathers out there is: love your children beyond anything else, spoil them, give them attention, and spend a lot of time with them. Money and materialistic things don't necessarily make them happy. Make them say one day, 'I am who I am because of my dad'. Our children really do look up to us, be a good example to them. If you indulge in toxic and bad habits they really emulate it. Rather teach them to be better citizens of society. South Africa needs that much right now. We really need to change the face of fatherhood, starting from today.