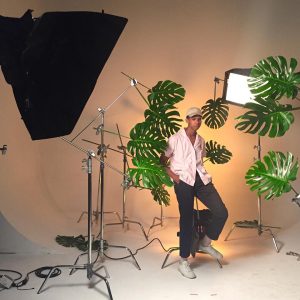 At 23, artist and photographer Tyler Mitchell broke the internet and made history to shoot the cover of Vogue magazine, thanks to Beyonce
You know you are powerful when you run the world, and your industry in your own terms. The most private famous celebrity of our time, Beyonce has made history, again, by appointing 23-year-old Mitchell to be the first black photographer to shoot a cover for Vogue in the magazine's 126-year existence. It's a bittersweet milestone because at this time and age celebrating 'black firsts', especially because of the influence of prominent people should signal a dangerous social symptom, one of exclusion and unacceptable inequality for a certain group of people. Nevertheless, Vogue magazine's editor, Anna Wintour has reportedly handed over the creative control over the entire September 2018 issue of the magazine to the queen B herself, including the photographer who will shoot her cover. So who is this young photographer whom Beyonce has assigned?
Huffington Post mentioned that Mitchell is a New York University graduate who quickly became a recognised in the art world through his work in Cuba and his story-telling on Instagram. His more than 80,000 Instagram followers including celebrities like Rose McGowan, Naomi Campbell,  SZA, and Solange Knowles.
https://www.instagram.com/p/Bgq6xrqgI31/?hl=en&taken-by=tylersphotos
He first gained attention in 2015 with his self-published book of photos, El Paquete, which focused on Cuban skate culture and architecture. Mitchell captured the book's 108 photos while in Cuba for six weeks as part of a documentary photography program. Mitchell's work has appeared in other magazines, such as Teen Vogue's Gun Reform cover, as well as covers for Fader and Office Magazine. Adding to his impressive resume are film projects for clients, like Marc Jacobs, Converse, Givenchy and Ray-Ban, which he directed.
https://www.instagram.com/p/BMB-gr_gjHt/?hl=en&taken-by=tylersphotos
He told The Times in 2017, he liked to "depict Black people and people of colour in a really real and pure way. There is an honest gaze to my photos." With Mitchell and Beyonce's same vision of advocating for and promoting black excellence, Vogue US magazine is one art piece I sure cannot wait to see next month.
Connect with Tyler Mitchell on:
Instagram: @tylersphotos
Twitter: @Tyler_Mitchell
Source: Huffington Post, Times magazine
Image: Instagram