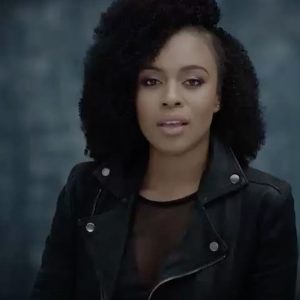 28-year-old actress, model, UN Refugee Agency representative and Audi ambassador, Nomzamo Mbatha has made waves with her passion and talents. She shares, at the Marie Claire Power Summit, how it all began
The one biggest lesson I have learned is that the world and the people in it owe me absolutely nothing. My grandmother was taken into a forced marriage at a young age in the Eastern Cape and ran away in her early 20s to start a life in KZN. When her husband, my grandfather died he left her with five children. To make ends meet, she started selling cold drinks and beers and I was responsible to go the bottle store to order stock. Pushing a wheelbarrow up the road and having to not care about being the pretty girl from a poor family taught me to be a strong and determined young woman who knew her worth. When I would push my grandmother in her wheelchair to collect her pension money and the security guards offered their lobola she would give them a cheeky look and say not worth it my boy, even if you won the lottery.
That in itself, reminded me that my soul was not for sale and that the world really owed my nothing. Everything that I would acquire would be from hard work. Dreaming has always been a verb for me. I remember as a young girl, my friends and I would dream about getting into a taxi, driving through Umhlanga and look at all the big mansions and picking one for ourselves, whether we'd buy one, one day or perhaps live in another neighbourhood and replicate that mansion. Either way, we knew that we were destined for something that was way bigger. Walking 10 KM from the bus stop to school, in the rain sometimes made me speak words of gratitude to my God, telling him how grateful I am for the car he was preparing me in the future and my wet school shoes making me grateful for my shoe closet one day. I also knew the power of association when I changed friends because when you stop speaking the same language with the people in your circle that's when you should realise that there are bigger things that are needed to serve our souls and the destiny that awaits us.
Everyone keeps asking me nowadays whether I am tired as I am always traveling and moving, what I keep saying is that I am always grateful that I wake up for something that I absolutely love. It would be such a shame that every one of us wakes up to do something that doesn't serve our souls, that didn't serve us and every day we are tired from doing something that we hate. Yes, I am grateful for doing what I love and it tires me, which is cool.
I am fortunate enough to have afforded myself choice. I remember sitting down with my producer and asked her to give me twelve months so I can go back to school. She said, "Nomzamo you don't need that degree to affirm you, you have done well for yourself". I said I know but that 16-year-old Nomzamo still wants to sit on the board of companies, not because of my name that is attached to a pretty face, but she wants to sit there because she's earned her stripes and that she's qualified.
My name is my superpower and I thank my late grandmother for naming me Nomzamo, which means against all odds, she who strives. There were tragedies and the many transgressions that I had to overcome in my life, from having to take care of my father, who was HIV positive, changing his nappies, yet still praying for his peace and for his healing. Not knowing how to get to university to having two bursaries laid at my feet. Every single time I have always known that I have no choice but to persevere. I remember the things that I survived and that keeps me moving. It reminds me of that needle that I need to keep shifting.
I hope that you know where your compass is, where you need to shift it to and how you need to shift it. There were and still are days when things seem dark and very lonely. But I know that my purpose is necessary and much needed. I understand that I am not subjected to the human time when my biological clock is governed by the author of time. I know that I am not a carbon copy but the blueprint and that is why I am able to move at my own beat, at my own pace and at my own time.
I was once asked why do I do the refugee camp visits, I said it serves my heart and soul and it's something I wanted to be a part of, to serve humanity. The person said it's really touching but I just don't like dust, to which I responded that I come from the dusty streets of Kwa Mashu.
So go at your own pace, find your purpose and let it give you sleepless nights. Never doubt your own brilliance, never write self-deprecating words in ink; rather in pencil so you can erase them and start again. Importantly, never be afraid to press that reset button."
Image source: Instagram