Indulge your taste buds and spoil your family this weekend with these delicious, easy and guilt-free treats. Happy baking!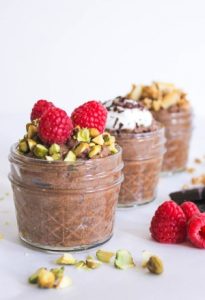 Chocolate Chia Pudding
Ingredients
2/3 cup chia seeds – soaked in milk of choice.
2 cups unsweetened coconut cream
1 tbsp. flaked almonds
1/2 tsp. pure vanilla extract
2 tbsp. cacao or carob
2 tsp. desiccated coconut
3 tsp. xylitol
1 tsp. cinnamon
1 tsp. nutmeg
Instructions
Step 1:
Place chia seeds in milk of choice and soak overnight
Step 2:
Place chia seeds, coconut cream, cacao/carob, vanilla extract, coconut, dates, xylitol, cinnamon, and nutmeg in food processor and blend for 1 minute until smooth and creamy
Step 3:
Add a little milk of choice if consistency is too thick
Top with flaked almonds and Nature's Choice miracle seed mix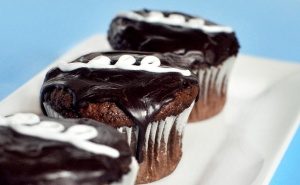 Gooey Choc-Nut Protein Cupcakes
Preheat Oven to 180⁰C
Ingredients
4 bananas mashed
2 eggs
2 tbsp. raw organic peanut butter/ cashew/ almond butter
1 scoop whey/raw vegan protein powder
1 tsp. baking powder
1 tbsp. coconut oil
2 tbsp. rice/almond milk
1 tsp. cinnamon
1 ½ tbsp. cacao powder
1 tsp. vanilla extract
1 tsp. ground cloves
1 tbsp. desiccated coconut
Instructions
Step 1:
Combine all ingredients into a bowl and whisk vigorously until mixture is light and fluffy
Step 2:
This recipe is very gooey and sticky so baking in paper cupcake holders is best to avoid breakage
Place paper cupcake holders into cupcake tray divisions.
Spoon batter into paper cupcake holders until half full.
Step 3:
Make sure to leave some batter aside to create the icing.
Step 4:
Bake cupcakes at 180⁰C for 15-20 minutes
Once cooked, remove from oven and allow to cool
Step 5:
Top each cupcake with remaining batter
Sprinkle with cinnamon and desiccated coconut.
Serving Suggestion
Top with a dollop of coconut cream for extra indulgence.
Serve cool or warmed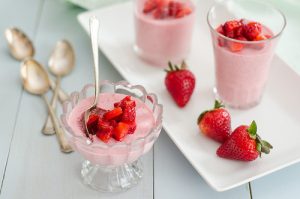 Serves 4|Ready in 60 Mins
Ingredients
½ cup melted coconut oil
½ cup coconut cream
2 large ripe bananas
1 teaspoon vanilla
¼ teaspoon sea salt
12 ripe strawberries
1 medium avocado
1 Tablespoon maple syrup
Instructions
Step 1:
Place all the ingredients in your food processor and blend until smooth and creamy.
Step 2:
Chill for 1 hour in the fridge and enjoy!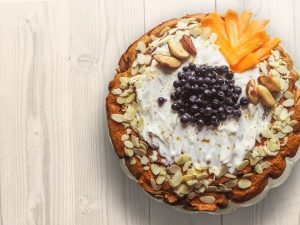 Vegan Spiced Butternut Pie
Serves: 6-8 | Ready in 45m
Ingredients
For Crust:
1 1/2 cups Almond flour
1 tsp salt
1/3 cup xylitol
1/2 cup coconut oil
2-4 tbsp. water
For filling:
1kg butternut pieces – steamed and blended to form a puree
400g full-fat coconut milk
1/4 cup rolled oats
2 tbsp. ground flax seeds
1/3 cup xylitol
2 tsp. ground cinnamon
1 tsp. ground cloves
¼ tsp. ground nutmeg
1/8 tsp. ground ginger
¼ tsp. Pink Himalayan salt
1 tbsp. pure vanilla extract
Instructions
Preheat oven to 180°C
Step 1: Prepare Pie Crust
In a large mixing bowl, combine all dry ingredients for pie crust. Add coconut oil and stir. Add water as needed until mixture begins to stick together. Press evenly into a round pie pan.
Step 2:
Place some baking paper over the top of the pie crust and cover with a few raw speckled beans (The crust will rise, so the beans will assist in keeping the pie crust flat). Put the crust in the oven and immediately increase the temperature to 280°C. Bake 15 minutes until cooked through, crisp and lightly browned. Allow to cool.
Step 3: Prepare Filling
Preheat oven to 180°C.
Blend all ingredients or pie filling together in a food processor until smooth, and pour over ready cooked pie crust.
Step 4:
Allow to bake for 30 minutes. After 30 minutes remove from oven and allow to cool. Pie filling will still seem slightly underdone after this time but this is what you want. Once cooled, refrigerate for at least 5 hours uncovered, so that the pie can thicken and "set."
Serving Suggestion: Before serving, top with a little cinnamon and flaked almonds. For a fruitier taste, you can also top with fresh blueberries.
http://www.caralishious.com/recipes/healthy-treats/chocolate-chia-pudding
http://www.caralishious.com/recipes/healthy-treats/gooey-choc-nut-protein-cupcakes
http://www.caralishious.com/recipes/healthy-treats/vegan-strawberry-mousse
http://www.caralishious.com/recipes/healthy-treats/vegan-spiced-butternut-pie
Connect with Cara Lisa on:
Instagram: @caralishious
Twitter: @caralishious