What better way to kick-start your day than with these delicious and healthy breakfast ideas prepared by you, The Lazy Makoti and Cara-Lisa?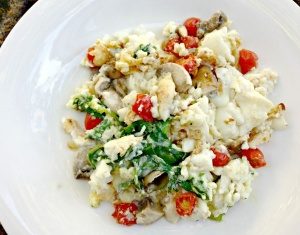 Egg White Scramble with Mushrooms and Cherry Tomatoes
Ingredients
Scramble Ingredients
4 egg whites
1 tsp. Himalayan rock salt
1 tsp. dried oregano
1 tsp. dried thyme
2 tbsp. milk of choice
1 tsp. baking powder
2 tsp. coconut oil for frying
Mushroom and Tomato Ingredients
2 cups button mushrooms
1 cup cherry tomatoes – sliced
1 cup fresh basil- chopped
2 tsp. coconut oil
1 tsp. dried oregano
1 tsp. dried thyme
1 tsp. Himalayan rock salt
1 slice toasted 100% Rye bread
Instructions
Step 1:
Whisk together all ingredients for scrambled egg
Step 2:
Place coconut oil and garlic in medium frying pan and allow to fry for 1 min
Add mushrooms, tomatoes, herbs, and seasoning
Fry on medium heat for 5-7 mins until cooked through completely
Step 3:
Place toast in a toaster
Place coconut oil in a separate frying pan
Add whisked scramble ingredients
Scramble on high heat for approximately 3 minutes stirring continuously
Step 4:
Top toasted rye with egg white scramble, mushroom and tomatoes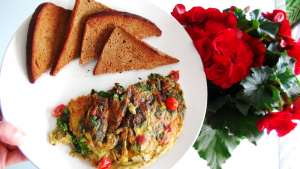 Mexican Omelette
Ingredients
2-3 free range eggs
½ green pepper diced
6 Rosa tomatoes – finely chopped
2 cups baby spinach – diced
5 basil leaves – finely chopped
Handful parsley – stems removed
½ tsp. baking powder
3 tbsp. milk of choice (I use rice milk)
Himalayan rock salt and black pepper to taste
2 slices 100% wheat-free Rye Bread (optional)
Instructions
Step 1:
Place eggs, baking powder and milk of choice into a large mixing bowl
Whisk thoroughly
Step 2:
Add remaining ingredients and whisk together until thoroughly combined
Step 3:
Place coconut oil in large frying pan and melt on high heat
Reduce heat and add omelette mixture
Fry for 4 minutes on medium heat until top of mixture begins to bubble
Flip and fry on other side for 3-4 minutes
Step 3:
Once cooked through completely, remove from heat
Fold over in pan and place on serving dish.
Serving Suggestion
Serve hot alongside 2 slices of toasted wheat free rye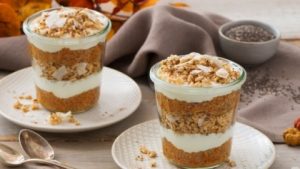 Apple Pie Chia and Oat Pudding with Coconut Cream
Ingredients
Prep Time 40 minutes 
1 cup coconut milk
1/4 cup chia seeds
1 tsp. xylitol
2 apples – baked and blended
3 tbsp. maple syrup
½ tsp. cinnamon
½ tsp. ground cloves
1 cup rolled oats
1 tbsp. coconut oil
¼ tsp. nutmeg
1 cup coconut cream
Toppings
4 large fresh strawberries
¼ cup walnuts
Instructions
Step 1:
Combine coconut milk with chia seeds and xylitol and refrigerate overnight or until chia seeds have expanded and milk has a pudding-like consistency.
Step 2:
Preheat oven to 180⁰C
Place whole apples in an oven and bake for 20 minutes until soft. Once cooked, remove from oven and allow to cool.
Step 3:
Place apples in a blender along with cinnamon, cloves, nutmeg, and maple syrup and blend for 30 seconds until chunky "apple pie" filling forms. Add chia pudding and blend further for 1 minute until all ingredients are well combined to form the apple pie chia pudding.
Step 4:
In a medium-sized mixing bowl, combine oats with coconut oil.
Place oats on large baking tray and bake at 180⁰C for 15-20 minutes until golden brown. Remove from heat.
Step 5:
Layer half of the apple pie chia pudding, coconut cream, and oats evenly in four 250ml tumbler glasses. Repeat layers once, ending with oats.
Step 6:
Top with fresh chopped strawberries and walnuts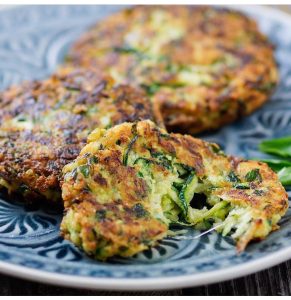 Baby Marrow Frittas 
Ingredients
4 cups baby marrow, shredded
1/4 cup spinach, very finely chopped
2/3 cup cake flour
2 large eggs, lightly beaten
1/3 cup sliced spring onion (green and white parts)
2 Tablespoons olive oil
Method:
Place the shredded baby marrow in a kitchen towel and squeeze out as much liquid as you can. Transfer the baby marrow to a large bowl.
Add the flour, eggs, sliced spring onion, 1/4 teaspoon salt and 1/8 teaspoon pepper to the bowl, stirring until the mixture is combined. Line a plate with paper towels.
Add the olive oil to large pan over medium heat. Once the oil is hot, scoop 3-tablespoon mounds of the baby marrow mixture into the pan, pressing them lightly into rounds. (make 2 or 3 at a time, don't overfill pan)
Cook the baby marrow fritters for 2 to 3 minutes, then flip them once and cook an additional 2 minutes until golden brown and cooked throughout.
Transfer the fritters to the paper towel-lined plate and immediately sprinkle them with salt. Repeat the scooping and cooking process with the remaining mixture.
Serve warm
Ingredients supplied by:
http://www.caralishious.com/recipes/breakfast/apple-pie-chia-and-oat-pudding-with-coconut-cream
http://www.caralishious.com/recipes/breakfast/mexican-omelette
http://www.caralishious.com/recipes/breakfast/egg-white-scramble-with-mushrooms-and-cherry-tomatoes
And The Lazy Makoti.
Follow Cara Lisa on:
Instagram: @thecaracollective
Follow The Lazy Makoti on:
Instagram: @thelazymakoti