Nestled in Langhams Lifestyle Estate in Fourways, Johannesburg, Divaz Spa and Salon is a perfect retreat haven for moms and their kids. We chat to its owner, Fatima Omar about what inspired it.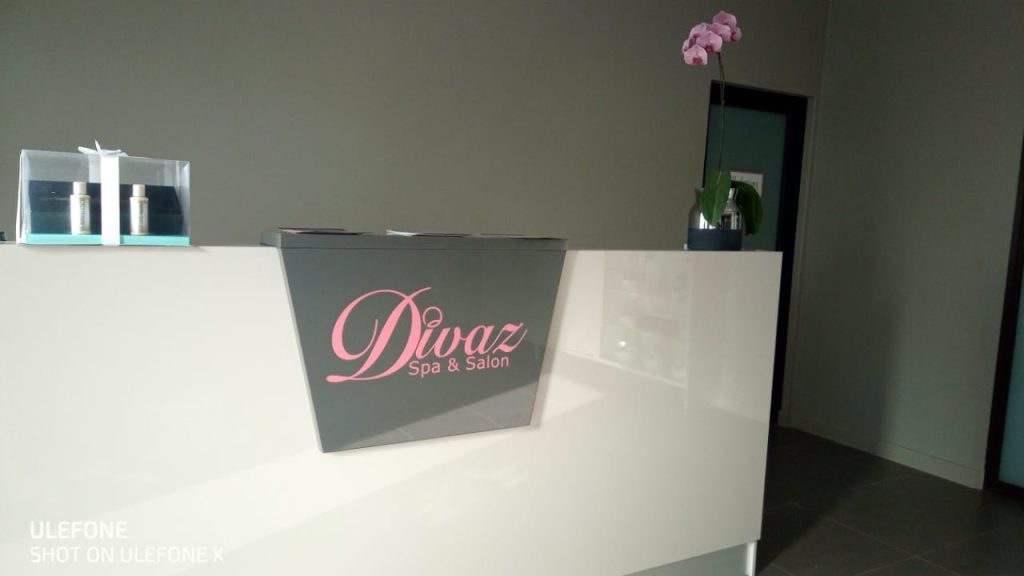 I met Fatima Omar in 2016 where I learned about her first business Divaz Events Management, an events management company that took a handful of people to Mauritius. Three years later the businesswoman and mother of three has expanded her business interests. Owner of a family-friendly spa in Fourways, Johannesburg, Fatima knows how to exceed customer expectations. Walking into the spa, early in May 2019, I was immediately greeted with a friendly smile from the staff and a glass of orange juice and I was shown the beautiful place ready with luxurious tools and beauty products to pamper any hard working parent and their kids. Yes, you read right, this spa does accommodate kids. It is divided into two sections: one for kids and one for adults so you can have some me time, with the peace of mind of knowing that your kids are pampered a stone throw away from you. For a person who barely goes to spas, I must say I was impressed with the set-up and the pedicure treatment I got as Fatima and I chatted about her business journey. I hope you enjoy and are inspired by it.
Take us back to your childhood, what were your career aspirations?
I always wanted to travel the world; that was my biggest dream. I was fortunate to work in the travel and marketing field. After 12 years of traveling, and passports full with stamps and memories I decided it was time to make my next dream a reality.   The reason I loved traveling is that what you learn through your experiences are things you never learn with any academic qualification.
How was your career journey before starting your business?
I tried the recruitment field after studying HR. It was a short-lived career because my heart was always in the travel and marketing field. But it is a demanding field, which can see you work 18 hours. By then my daughter was recently born and I wanted to be as close to her as possible and that is the reason I started my own company. Divaz Event Management has opened shop for six years and the Spa was opened in March 2019.
Tell us more about Divaz Event Management and Divaz Spa and Salon
I currently own two businesses Divaz Event Management, which focuses on conferencing, event and travel incentive trips locally and internationally. The Spa was always a vision of my mine and Ntombi, one of my senior team members who is also a beauty therapist. In 2017, when I was seven months pregnant I told my team that we were ready to open up a spa, a year later we were able to build the spa from the ground up. What makes this spa unique is that we cater to children as well because as a mother I know how important support is for every parent and it can get overwhelming if one doesn't get that. And since not every woman is lucky enough to get that support to even go out for a pampering. I wanted to create a family friendly space that allows the mothers to relax while children also get treatments. We cater to children from 4-16 years.  I also wanted to create a spa to give women what I never had as a younger woman, we were never educated about how to look after the health of our skin, and this is a great platform to do that. We did extensive research on the products we wanted to use on our clients. We current stock three ranges of products, a medical range that treats the skin from the inside-out, A cosmetic range that provides for an exceptional experience  as well as an organic range,  which is 100% natural which caters to teenagers.
What have been the highlights and challenges of being a businesswoman?
Starting a business is not easy, especially when it's new because it's a brand that you have to introduce to the market, whom you have to gain their trust and satisfaction. Initially, I was a one-woman show, which is not easy. In my field-events and marketing-what, I have noticed is that when the economy takes a dip and companies cut costs the first department they target is the marketing department, which I think is a big mistake because at that time you need vigorous marketing to promote the brand. The other challenge is that events is seasonal but I am grateful that I started out with clients who supported me, and I think that's all a business needs when it starts out, that one client that believes in you and that supports you.
How did you juggle being a mom and being a business woman?
I am still juggling and it's hard as I now have three children ages, 5 , 3 and 18 months. I had to work my days around my kids as for the past 5 years I have been pregnant and breastfeeding. The postnatal depression doesn't help much either, and it's something that women have to openly talk about to address it. But I am grateful that I have had a great support structure.
How do you define success and do you feel you have achieved it?
I think in life the more we have the more we want; it's a human thing. Even though I was happy with the events business I wanted to open a spa, mainly because I want to build a legacy to leave behind for each of my children. To me success means empowering other women. I would like to retire when I am 40, so that will be one of my successes and is my ultimate goal.   At 30 I was a director of two businesses but God blessed me with a child. And looking back I knew that I had to get the title of motherhood to get the courage of opening my own business because I doubt I would have. I feel as a mother the best thing I can do for my kids is to teach them to work hard for what they want in life.
How did you know that entrepreneurship was meant for you?
I think as a person you find yourself in circumstances that push you into the direction you are meant to take and be the best version of yourself. Before I was a mother I would be at the office at 5 am and leave it at 10:00 pm. I had me to worry about and when I became a mother I knew I wanted independence and flexibility to make money and entrepreneurship made sense. I strongly believe that every woman can achieve anything they put their minds to, even entrepreneurship. You just need 4 qualities – passion, hope, faith and purpose.
To that young person who is discouraged by the challenges they face in sustaining their business or finding a job, what would you say to them?
I would say that nothing comes easy. Divaz Spa has also seen a lot of challenges. The biggest thing I personally have when it comes to running my businesses is faith. There was one Saturday that was so quiet that my team and I prayed. Just after saying our Amen two clients made a booking. For me the power of prayer is huge. As a business person you go to bed stressed, you wake up stressed and no one tells you that. But I strongly feel that if God takes you to it He will take you through it. You just need to push, to find a way to pay those bills and not give up on yourself.
You have built your brands around motherhood, is that what this spa is about?
Definitely! I believe that you have to build brands around things that you are passionate about and this spa is close to my heart because there is a gap I saw in the market, and my Spa is built around family values which is most important for me, I have an incredibly strong team that shares my vision, my dreams, and my values.
And why the name Divaz?
I believe that the brand is made up of its people. It's about the team because you are as good as your team. We are female hustlers, feminine and are very passionate about what we do. We are not afraid of hard work.
Lastly, what are your success tips to young people reading this?
Business will always kick you down, it's about you picking yourself up and keep moving. Never give up, no matter what comes your way. Also, surround yourself with positive people because you can't have a negative mindset and expect a positive outcome. Importantly, take time out to reflect on how far you've come.
Pursue, Persevere and passion will get you everywhere you want to be.
For prices and bookings, have a look at the Divaz Spa and Salon social media platforms below:
Instagram: https://www.instagram.com/divazdayspa/
Facebook: https://www.facebook.com/divazdayspa/
Website: https://www.divazdayspa.com/
Address: Langhams Lifestyle Estate, 1 Tamchele Avenue, Fourways, Johannesburg, South Africa
Call or WhatsApp: 078 6100 975