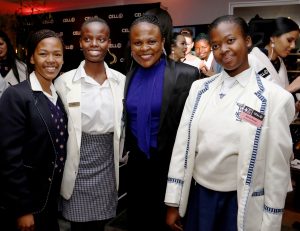 South Africa's Public Protector Advocate Busisiwe Mkhwebane, leading South African businesswoman Phuti Mahanyele, Miss South Africa Adè van Heerden and social media expert Emma Sadleir were just some of the women at an event held on 10 May 2018 to launch the 2018 Cell C Take a Girl Child to Work Day and the #morethanaday campaign.
Cell C Take a Girl Child to Work Day takes place nationwide on Thursday, May 24.
Cell C's Take a Girl Child to Work Day has become one of the most important life-changing campaigns for schoolgirls around the country. The much-lauded initiative – which celebrates its 16th anniversary this year – has had a powerful impact on the lives of more than a million girls, preparing a core of future women leaders who will be vibrant contributors to the economy, and leading job creators for our country.
However, this year Cell C is encouraging South Africans not to host girls on one day only, but to be involved throughout the whole year, driving its #morethanaday initiative.
Annually, Take a Girl Child to Work Day is hosted by more than 750 corporates and continues to spark the debate on the role of socio-economic development and the promotion of gender equality.
Says Suzette van der Merwe, Cell C Managing Executive: Corporate Social Investment: "This year's theme encourages us all to do more. Cell C intends to extend its one day to four days this year. We have partnered with high schools in close proximity to our various regional offices and will host the same high school pupils for various workshops throughout the year. This will enable us to develop a meaningful and sustainable programme that will extend over a period of time, improving their skills and knowledge of the workplace.
"We complement our gender development programme with bursaries for girls via the Cell C Girl Child Bursary Fund as well as our robust internship programme. We encourage other corporates to consider adopting a longer term and sustainable approach too, inviting young women to their place of work, allowing them to job shadow and explore various careers and interests."
The 12 current Miss SA 2018 finalists also joined the event.
Year-on-year since 2014, Cell C has been offering internship opportunities to the finalists, many of whom have become full-time employees following their internship year.
JOIN THE MOVEMENT
Register for the 2018 Cell C Take a Girl Child to Work Day® via www.cellcgirlchild.co.za
Follow the conversation by using #GirlChild2018 and #morethanaday.
Social media links:
www.cellcgirlchild.co.za
Facebook: https://www.facebook.com/CellC.SouthAfrica/
Twitter: @CellC
Instagram: @cellcsa
Source: Supplied