28-year-old Zanele Mthiunye shares what her job as a phlebotomist entails, as well as her success tips to young people.
Zanele has come a long way. Her mother, who was a domestic worker passed away a couple of years ago because of a heart failure just before she graduated her first degree, leaving her and her five siblings with her dad who is a taxi driver. She opens up more about how life has been since and what keeps her busy.
Describe what your role as a phlebotomist entails?
Phlebotomists are qualified medical technicians who specialise in blood collection for medical purposes and laboratory testing. This entails me working closely with patients and medical professionals such as doctors, nurses, pathologists and medical specialists.
Why did you decide to start the NGO, Role Models?
Since completing my studies I was approached by a lot of people who told me how I inspire them on a day to day basis. This had a serious impact in my life as I realised that there were so many people who looked up to me but I could not do anything to help or empower them. I then met with a team in Mafikeng who had the same vision I had. We discussed our goals and decided to open an educational foundation but that required us to apply for funding, which was fruitless. That's when we came up with the idea to do inspirational luncheons every year in different provinces.
It's bit hard and challenging because at the moment everything is run at our own cost. But I'm proud of the fact that our aim to motivate, inspire and to give back to the community surpasses our challenges. I have an excellent team and we believe that you do not have to be a millionaire to make a change in someone's life. The little you have can make a huge difference and in the past three years we managed to help two people further their careers through one of the top graduate institutions in South Africa and 80% of the people who attended our luncheon are now successful business owners.
Describe your busiest day
My days are always so hectic as I go to work, study and manage my side businesses on a daily basis. I'm in my second year now and I feel like this lifestyle has become a productive habit that I enjoy and it brings out the best in me.
You are also studying towards a degree in psychology, tell us more about that?
I'm doing my second qualification BA in psychology, it's quite an exciting career to branch in. I still believe education is power and I believe this degree will help open doors for me to positively impact the lives of people around me.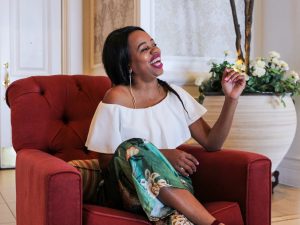 You are now raised by a single dad after your mom passed on, how was that experience for you and your siblings?
After I lost my mom things were not the same anymore but I have a loving and supportive family and one of the best dads in the world. He's my everything and I learned resilience and strength from him. He's proof that there are really good men out there.
What is your career advice to young people who are on the brink of giving up because of the many challenges they are facing?
My advice is pretty simple yet profound: Lack of faith will limit you from being the best you can be. Everything starts in the mind, believe in yourself and follow your dreams.