41-year-old Frits van Ryneveld shares with young people how he started Proudly South African Darling Sweets in rural Western Cape, as well as his success tips.
Tell us about your career aspirations growing up
I wanted to be an actor! Took drama classes at school and went on to study drama at the University of the Free State.
What was your previous job before venturing into a business and what lesson have you learned that you apply to your business?
When I finished my studies there were very few opportunities at that time in the drama field. I joined the corporate world and built up 20 years' experience. I didn't necessarily enjoy the corporate world – but it taught me a huge amount about business!At the time of starting Darling Sweet I also had an antique shop that I opened in Darling.
Share with us how and why you started Darling Sweet? 
Having moved to Darling from Bloemfontein to open an antique store, I realized that Darling has huge tourism potential and that something sweet could be a great present for tourists to take home to loved ones. Darling has a lot to offer – but there wasn't at that time anything sweet produced. My thinking was that chocolate, nougat and fudge has been done – but not a real traditional toffee. So toffees were the natural option- it also linked with Darling's historical connection with butter! I met my partner, Hentie van der Merwe, 5 years ago who has chef experience and a love for design – and together we decided to start a company and produce toffees from Darling.
How long have you been in business and what are some of the challenges and highlights you faced thus far?
Darling Sweet will be turning 4 in July. We are a bootstrap company which means we had no start-up capital and are growing the business step by step. Manufacturing and doing business is exciting and rewarding, but not without its challenges! And hard work, non-stop. Having chosen to go the handcrafted route in order to create employment and produce a high-quality confectionery product also means our production capacity is often under strain. We also decided to go as green as possible, hence sourcing packaging that is recyclable and our toffee wrappers are bio-degradable. A huge highlight for us was an order of 55,000 units of toffee that was placed by a New York-based monthly subscription gift box company. It was a huge challenge and proof that we can do it!! Our whole team decided this is a great opportunity – and we took it on! We worked incredibly hard, but very much impressed the Americans. The staff was so excited about the idea that our toffees are produced in Darling in South Africa and that they were sent off to New York, and that Michelle Obama could be getting them for Christmas!! 🙂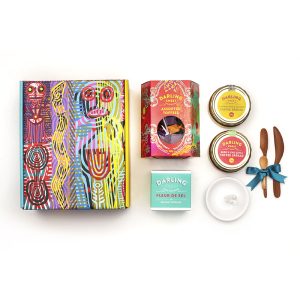 How big is your team and what is your leadership style? 
We started with 2 members of staff and one pot almost 4 years ago – and now currently have 22 permanent staff at Darling Sweet! We want to create employment for our village, but also career opportunities and want to empower our staff and give them responsibilities. We are like a family working together, even though Hentie and I are the leaders. We also challenge our staff and want them to be part of the business and to see the bigger picture – as well as building a future for Darling. We don't believe in a leadership model of 'I am the boss and you do as I say', that is a model that is not empowering – and a worker just stays a worker.
Why did you choose to be in this kind of business and where do you supply your products to? 
South Africa is a wonderful country and a land of opportunities. Since 1994 quite a few small companies were established and there is a market for a more high end, real product produced by hand. In a country where unemployment is huge, we also have the opportunity to help stimulate our economy and doing our bit for the betterment of our country and its people.
As a business person and a member of the Proudly South African umbrella, how important do you think it is for South Africans to support locally produced goods and services?
Together we can save our country! Proudly South African should be a logo to aspire to if you have a business in South Africa and it should be a logo that people look for on packaging. It is very, very important that people support local and buy Proudly South African – this awareness will assist local production and then job creation! If you buy one box of Darling Sweet toffee, you assist in employing 22 people in Darling, but also from there your support goes further – all our printing is done in South Africa, our toffee wrappers are bought locally, our ingredients are bought locally. So – supporting local has a hugely positive ripple effect that could do huge things in saving our economy, and also growing our economy. When you live in this country, and love this country, and care about the well being of all its people and the positive growth and future of this country, you do realise that supporting local is the way to go!
How would you define success and have you reached it? 
Success is not about making money, and one's success can so easily be another's failure! We have had a very positive three-and-a-half years growing from a 24 sqm factory space to over 500 sqm also creating employment and creating opportunities for a rural village like Darling. Success can also be seen as having a positive impact on people's lives – and we have had the opportunity to have that impact for 3 and a half years.
Share your success tips to the aspiring business person or one who is on the brink of giving up.
There is nothing like luck, there is hard work and focus! Do your market research, also look at market trends. Do the BEST you can. Find out and talk to people. Many people are always willing to assist with knowledge and experience. Start small, don't start with huge debt if you can avoid it. Believe in yourself and work work work!
Visit darlingsweet.co.za for more