43-year-old serial entrepreneur, former Miss South Africa, and mentor of the week, Basetsana Kumalo has achieved a lot of business success over the years. She shares her success tips to the youth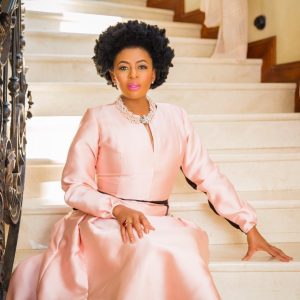 Basetsana Kumalo needs no introduction to many South Africans, especially the youth. Many of us have followed and have been inspired by her journey. She co-founded Tswelopele Productions (which makes Top Billing and Pasella), Connect TV (which makes Our Perfect Wedding, uTatako and Date My Family to name a few). She also has other business interests in the mining and traveling sector, creating jobs for thousands of people. I had a chat with her at the Jacaranda FM business breakfast in association with Standard Bank on 16 November 2017 at Montecasino. She shares her journey and success tips with young people:
How were you able to create longevity in your business ventures?
For me, longevity begins with a vision of what it is you are trying to do and be willing to re-invent yourself. You cannot afford to be complacent, especially when you achieved a certain dream. The day you think you have arrived is certainly a sad day because then you stop growing, striving to become a better person, stretching yourself, learning and giving. Longevity is about understanding why you are doing what you are doing but continuing re-invent yourself. Otherwise, you will be left behind because there are trends in whatever industry you find yourself in.
So, in my broadcasting business if I didn't continue to reinvest in our technology and our machines I don't think we would have been this far. You have to stay ahead of the head to remain relevant and then have longevity. The same thing applied to Travel with Flair. We were the first travel company to go paperless for travel bookings. We currently have a new app that makes one do their own bookings easily.
Business longevity and success is about re-investing in the business. I often see young people buying fancy cars with the profit they make, which is a big mistake. You have to re-invest your profits and ideas to sustain your business and stay ahead of the game.
What are your top success tips for the youth?
Young people have to take education seriously. You can't achieve success when you are lazy. You have to have a sense of purpose and back it up at school. I still empower myself with education and learn from others around the world. I take inspiration from Helen Kaleb who says that it's very sad for one to have sight and no vision. She was blind but managed to author many success books. Also, young people have to remember that they can't expect someone else to infuse passion into them. My dad always used to say hard work has never killed anybody. You have to have a clear direction of what you want to achieve and go for it.
Connect with Basetsana Kumalo on:
https://www.facebook.com/basetsanakumalo/
Instagram: @basetsanakumalo
Twitter: @basetsanakumalo