Affectionally known as officer bae, Jesse Suntele has been a very busy man since winning Top Actor Africa in 2016. He shares his experience in showbiz and success tips
What, in your childhood, drew you to entertainment?
My childhood ITSELF. I was always had an over active imagination as a kid, I was the child who would re-enact his favorite scenes from a movie after watching it, or learn the words to his favorite rap songs and then perform them to an empty room.
Journey us into how you got into entertainment, what was your first acting gig?
This was all supposed to start off as an illustrious modelling career, but I only ever landed commercials based on the auditions that needed a bit more of a character. Besides commercials, which is actually where I started out and gained a lot of my television experience from, my first acting gig was on a sitcom called Majakathatha records as a Tswana speaking musician.
How has life been since winning BET's Top Actor Africa?
I say this all the time, the exposure and the doors that the show opened up for me make it a massive moment in my life. After the competition I've been relatively busy, which, compared to the thumb twiddling quiet days before the show, is great! I think Top Actor was also, on a small scale, my first taste of what fame might look or feel like because the reception was incredible and it was the first time I had people coming up to me in public to tell me they're  fans.
Who, in the entertainment industry, locally and internationally, have you always looked up to and why?
The Fergusons of course. Everything they touch turns to gold, and working with them on the Queen was a surreal moment for me. Internationally I've always looked up to J Cole as a musician who is extremely talented and also has a conscious mind about things, and Michael B. Jordan as an actor who is very versatile and refuses to be placed in a box.
Apart from acting what keeps your day busy?
MUSIC MUSIC MUSIC!! I'm at an extremely exciting time in my life because I believe the world is ready my music. I'm also running around like a headless chicken getting beats and instrumentals, meeting producers, meeting other artists, writing and recording. I LOVE IT.
What are some of the challenges and highlights of your career?
I think my biggest challenge was getting one foot in the door, just getting people to look your way and give some of their time to see what you have. That part isn't easy at all, but once I broke past that and got the ball rolling it was only a matter of staying consistent and persistent. I've had many highlights along the way, each meaning a lot to me for my own reasons, from interviewing the likes of Patoranking, Sarkodie, Wizkid and even Future at the 2016 MAMAs, all the way to playing a serial killer police officer on Mzansi Magic's The Queen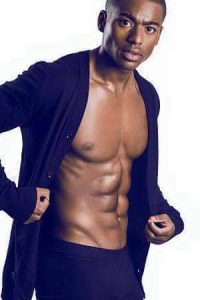 Which production would you love to work in one day and why?
Someone asked me this recently and I've always said the concept of the hit series Lock Down is genius! I would love to be a part of that incredible show…it's mostly a female cast though so I'll need a lot of luck landing a role
What can we expect from you this year?
As I said I'm busy with the start of my journey into my number one passion, which is music, so the world can expect a lot from me on that front. They will also discover a new side of me, not talent wise per say, but the rap artist in me is a side of me that has never had a chance or a platform to express himself until now. I might even ruffle a few feathers.
If you weren't in entertainment, what other career path would you pursue?
This is a good question, I was an academic at school and as a result my dad had hopes of a chemical or electrical engineering career for me, so I might have been cutting your lights off at Eskom.
What is your advice to young people who want to make a success of themselves?
Learn the game, play the game. Every industry has a system of sorts, learn all you can about it and you'll find ways to manipulate it to your advantage. It's easy for me to say "work hard and you'll be fine", which is true but it's not black and white, the truth is the world (especially the entertainment industry) is unfair. Which means you'll have a hard time just playing by the rules if the game isn't being played fairly. Bend a few, break a few.
Connect with Jesse on:
https://www.facebook.com/FlowaftaJSuntele/
Instagram: @jesse_suntele
Twitter: https://twitter.com/Jesse_Suntele_
Images: supplied