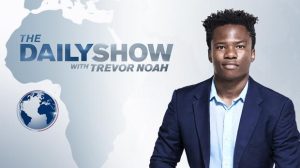 The award-winning comedian has come a long way in his career. From rural East London to corresponding The Daily Show with Trevor Noah, Madinga's success story is worth applauding
Loyiso Madinga broke the internet days ago when Trevor Noah selected him to be the first ever African comic correspondent for the continent's topical issues at The Daily Show with Trevor Noah. Only starting his career as a comedian in 2012, Madinga soon got acclaim from fans and critics, earning him the Savanna's Comic Choice New Comer Awards in 2014. Madinga's career has skyrocketed since, becoming a regular writer and performer at the Late Nite News with Loyiso Gola.
Madinga has also toured with Trevor Noah on his NationWild show, shared stages with other comedians on David Kau's "Blacks Only" line up, and also performed on comedy festivals locally and globally, including Switzerland and South Korea. Oh, the new Daily Show African correspondent's talent was stamped when he sold out his Born Free-ish one-man shows, two years ago.
READ MORE: My Journey To Success With Trevor Noah
About his appointment, he says, "What is really great is this places an authentic spotlight on local comedy and presents a reality that combats the stereotypical perception of Africa. Being part of The Daily Show, I get to join the best conversation in the world."
He further stated on Instagram, "This isn't even about me. This is about SA comedy and comedy on in Africa. We're all grinding so damn hard to make this thing work and this only happened because the hard work, love, and dedication we all put into this is obvious to the world. Luckily for me, I have a whole team of some of the best comedy writers, a stellar production team and Comedy Central behind me. Here's to SA comedy, comedians and comedy lovers."
Not bad for someone who left a career in advertising to have the whole world in stitches.
Catch Loyiso, who debuted on the Daily Show with Trevor Noah on 11 January 2018, on Comedy Central (DStv 122) at 21:30 PM
Connect with Loyiso on:
Facebook: http://www.facebook.com/loyisomadingacomedy/
Instagram: @loyisomadinga
Twitter: @LoyisoMadinga