28-year-old Ofentse Tsipa shares her experience as an entrepreneur and her advice to other young aspiring business people
Have you always been entrepreneurial, if not what led you to be a business woman?
Yes, since I was very young I have anyways had an entrepreneurial streak. In high school I was known as the popcorn lady and in varsity the cupcake lady. I started writing business plans for my clothing business since high school and in my mind, I had always known that I would study, work, save then jump into business.
Tell us how you started your beauty venture Taji Organic and The 50 shades of Duku book and collection?
Taji was born from a talk I was giving in 2014 at a women's day event. I had been on my natural hair journey for a year and I had discovered shea butter as the secret to nourishing my dry hair and skin and since I was talking about natural hair I recommended shea butter to the ladies. The next question was where can I get some and I said, I sell it (before I even had a plan on how I would package it out price it!) The Taji formulation was something I had been perfecting for myself over that year and every customer review since has been phenomenal. 50 Shades of DUKU was born in a similar fashion, or of a need I saw in the market. The customers I would sell head wraps to would mention that they couldn't tie the wraps so I decided to teach that through a book.
What has been your biggest milestones and challenges since starting your company?
The biggest challenge since the birth of Taji is definitely finding access to the market. We have been bootstrapping since day 1 and this limits the growth potential of the business as it is product based.
Describe your busiest day?
It starts at 5 am with me waking up to get ready for the day through prayer to ground myself. I'd skip breakfast and grab a fruit on my way out to a meeting with a supplier or potential supplier. After the meeting, I'd catch up on admin in a coffee shop. I'd have a meeting with my mentor at lunch then dash off to collect product supplies from my different sources. I'd then go to the fabric shop for some doeks (head wraps) perhaps then head on home to start producing the next batch of shea butter crème's which in itself is a lengthy process. I'd grab food somewhere in between and I'd go to bed super tired but satisfied with my productivity.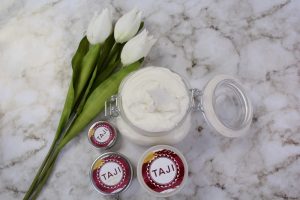 How would you describe your target market and how has the reception been from them?
My target market is black women in LSM 6-9 that are concerned about their health and beauty and are looking for a simple solution for both their hair and skin. The reception from this group of women has been great. I generally understand that the naysayers are not my customers.
What is the best business advice you had received that you are still applying today?
Never fear asking for help when you need it, you are not superwoman
What lessons have you learned in your business so far?
The most important lesson I have learned is that running a small business takes as much energy as running a bigger business so don't fear starting big and fail fast and fail forward. Learn and grow from your mistakes. The last lesson I've learnt is that it's not as easy as it may look from a distance, it's messy and often you are at the brink of giving up but the key is finding your purpose and focusing on it when the going gets tough. Also, I have learned the importance of having a strong support system in friends and family.
From your experience, what personality traits should a business person have?
Tenacity, authenticity, flexibility, and self-motivation
What are your short term and long term goals for your business?
My short term goal is to expand the product range and long term is to expand distribution to large retailers nationally and internationally.
How many people do you employ and what is your leadership style?
I currently have three people on the team, my leadership style is laissez-faire as I loathe micromanaging. I believe in letting people's strengths shine through.
What is your success advice to people who want to venture into business?
Make sure you have about 6-12months of savings for living expenses before you quit your day job so you don't put too much pressure on your business in the beginning stages and also have mentors that you can learn from and "copy". Don't get too emotionally attached to business decisions (focus on growing the business and leave your ego out of it). Network, network, network and improve your relational skills as they are more important than technical skills in business (the same is true in corporate though).
Visit https://tajishop.myshopify.com/ for more or connect with them on https://web.facebook.com/pg/tajishopZA/about/
Images: supplied