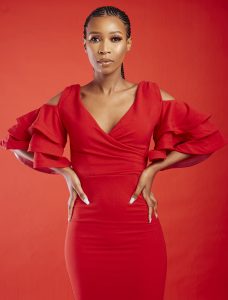 Afro-soul sensation Yolanda Yallunder Nyembezi is part of the Business Premium Jazz Festival taking place this weekend. She tells us more and her success tips.
After a strenuous break due to the Covid-19 pandemic, the Business Premium Jazz Festival in Carnival City, Johannesburg, returns for the seventh year of show-stopping flair. Yallunder is excited to be part of the line-up. She tells us about her music journey and her success tips.
Share with us what sparked your passion for music and when did you decide to turn it into a career?
I always had a passion for singing…
A story I don't share a lot is moments with my late grandmother, who sang about scenarios as they happened. She spent a lot of time by herself, so music kept her company. You see how people talk to themselves? She sang. And, I think that is also a part of me. Turning into a career is somehow fate because I think having studied vocal pedagogy, I wasn't thinking of myself as a possible celebrity.
Which Afro-soul musician drew you to this genre? What about their music inspired you?
I think Msaki can do no wrong in my eyes, ears and heart. (By the way, this answer always changes) but definitely Msaki! How she writes about love for topics such as political and social issues is really admirable.
You broke into the music industry during the height of your Covid-19 in 2020 with your debut EP, Uthando Lwam. What have been the challenges and highlights you experienced in your journey?
Being in the industry is not as easy as a lot might make it seem. At times, I imagined if I had broken into the industry under normal times, how would things have been different? Is the problem the timing or the genre I chose or my approach to the music? The highlight is really being able to put out music and the challenge, perhaps, slowly finding the right way to package my music for it to have a competitive advantage.
Who is Yallunder outside the recording studio? What are your other passions and goals you aim to achieve?
She is Yolanda Nyembezi, a big sister and a daughter! I am a big family person. My passions are still within the entertainment space. I would love to explore the business side of things, find my feet, be independent, become the first artist I manage, become my first client. Oh, and I love writing stories.
What inspires the songs you make?
Everyday life, thoughts and feelings.
What is your definition of success and do you feel you have achieved it?
Consistency, having sustainable consistency financially, emotionally and physically. And no, I have not achieved it … yet.
What can fans expect from you at the jazz festival this Saturday?
Shows! I love performing! I experience so many sides to myself on stage. The fans will see a Grade-A performance!
Are there other projects you aim to achieve this year and in 2023?
I have found an annual goal, and that is hosting Soul Energy, my show. Me and the people who listen to and follow my music are in debt. We have a lot of music due for release! So yes, music and performances!
Which artist or producer would you like to work with and why?
Another question that has fluctuating answers. If you'd asked me at an earlier point, I'd have said Kabza De Small, but that has happened. Wow! I feel like I want to go wherever the music takes me. The dance and Afro-pop/soul genre, I am open to working with many people.
Lastly, what are your success tips for young people?
I don't have tips, but advice… focus on what pays you!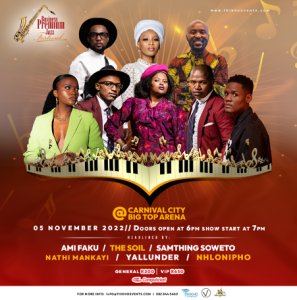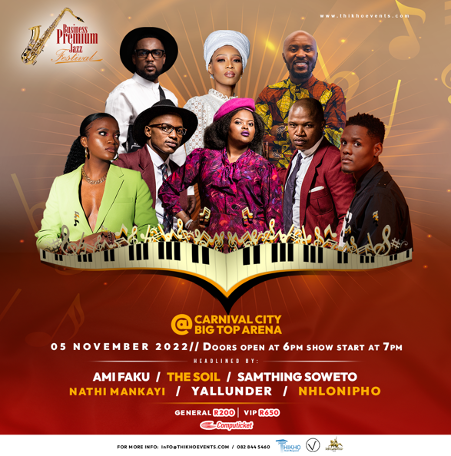 Tickets are available from R200 (general) to R650 (VIP) at Computicket. Purchase your tickets here: Jazz Festival
For more information, visit: Thikho Events
Plus, you stand a chance to win a double ticket to the event. Simply sign up to our newsletter, follow KDanielles Media on Instagram, and answer who you would like to take to the event and why. Don't forget to tag us with your answer.