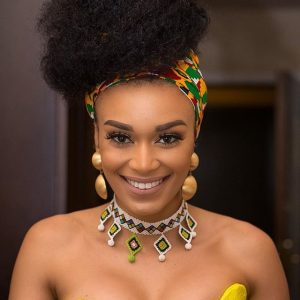 Who else but the radiant "Black Pearl" has the guts and sass to crack the whip and mediate the "Bonfire of the Vanities" when famous rapper AKA will get roasted by ten of South Africa's biggest names?
Pearl Thusi has done it again, breaking yet another social boundary by being the first woman in Africa to host what promises to be the Roast of the century. The Comedy Central Roast of AKA in partnership with Showmax is coming to The Teatro at Montecasino on Thursday, 21 February 2019.
With her grand reputation for sophisticated wit and oozing charisma, she will step into the pit with 6-inch heels to throw shade on this spectacular bout. The beautiful Pearl is known for not slowing in chasing her dreams in her local and international career. As presenter on both MTV's Lip Sync Battle Africa and the highlight rated MTV Base's Behind The Story, she is the hottest candidate for knowing how to fuel the fire or calm the storm in this role as Comedy Central Roast Master.
About the event, Pearl Thusi said, "I'm very excited to be the Roast Master and to work with Comedy Central for the first time. To be the first female Roast Master in Africa and first black woman globally is a great achievement. To AKA – we've talked a lot of mess on Twitter and in private, but now we're going to settle this in front of the world, with no one to protect you. This is deeper than rap beef. It will be on stage and to your face. I honestly can't wait. Oh, and I won't be alone as I've got a team of Roasters with me. So poetic. Just remember: COMPOSURE,  COMPOSURE!"
The Comedy Central Roast of AKA in partnership with Showmax will be hilarious, thought-provoking and without reservations, this Roast is the perfect grill for an audience who enjoys sitting on the edge of their seats.
Dillon Khan, Vice President for Comedy Central and Creative Services at Viacom International Media Networks Africa (VIMN Africa), said, "Our phones have been inundated with celebrities who want to be on the Comedy Central Roast especially with AKA in the firing line. Having someone as fierce as Pearl at the helm means AKA is guaranteed to be hit close to home. The revelations will be televised."
Candice Fangueiro, Showmax's Head of Content concluded, "Showmaxers love to laugh but we still had to take our brave pills to put the last Roast on Showmax fully uncensored. This fresh Roast led by Pearl is set to take things even further – viciously funny and downright rude, just the way our viewers like it. I can't wait."
Be sure to catch the Comedy Central Roast of AKA in partnership with Showmax on Thursday, 21 February 2019 at the Teatro, Montecasino in Johannesburg.
Source: Supplied
Image: Instagram