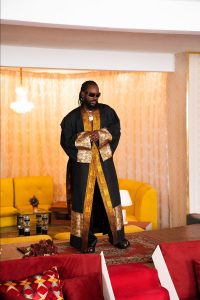 Adekunle Gold has been a force to be reckoned with since his debut album in 2014. He shares the inspiration behind his latest music video and his success tips
Already proven to be the summer anthem for embracing your journey to your own superstar status and channelling your inner VIP with the '5 Star' Open Verse challenge which is currently sweeping across social media, the vibrant and cinematic TG Omori-directed visual for the Kel-P-produced single, perfectly captures Adekunle Gold's evolution into a global music and style icon – dressed in full Dolce & Gabbana looks, styled by Ugo Mozie.
Speaking on '5 Star', Adekunle Gold said: "'5 Star' is an opportunity for me to speak my truth, to honestly express my experiences and my reality. It's a manifestation of the life that I want for myself and for all of you."
The latest single and visual follows the release of Adekunle Gold's fourth studio album Catch Me If You Can, which has amassed almost 300 million streams since its release earlier this year.
And his success tip?
Do what comes to you naturally. Be authentic. Don't use drugs. Also, don't let anybody tell you how to run your life, just do your thing your own way. Learn as much as you can; don't settle for good if you can be great at something.
To access his album, visit Platoon
Follow him on:
Image source: Instagram