27-year-old R&B singer, Priyanka Pather recently launched her debut album. She shares her passion for music and her success tips to young people
What, from your childhood inspired your passion for music?
​When I was younger around 3 or 4, I used to sit on top of my dad's car and sing for people. For some reason I was fluent in one of Celine Dion's French songs Pour que tu m'aimes encore and that became my claim to fame. As I got older I started playing the piano and always sang when I played. But was never confident enough to sing for an audience. Alicia Keys peaked at that time and naturally became my role model as she had the full package. I aspired to be just like her one day so decided to go to vocal lessons after I finished school just to improve my vocal abilities. I always wanted to be a performer when I was young but never imagined that my dreams would be fulfilled and would be releasing an album​
When did you discover that you are musically talented and want to pursue a career in the entertainment industry?
When I was about 5, my uncle had a piano in his house and I would just go play around. I tended to pick up songs like 'in the jungle' and 'happy birthday' quite quickly and my grandfather decided to buy me a small Casio keyboard. My parents sent me for dedicated piano lessons and I started​ playing UK-based piano exams and eventually completed my Grade 7 piano exam at the Associated Board of the Royal Schools of Music in the UK. Once I
​finished school, I was curious as to whether I could sing, so I quietly signed up for lessons​. The rest is history.
Journey us into how your entry into entertainment , how has it been?
Since the time I played piano at school, I knew I wanted to be a performer. I started to enjoy performing for people and decided to write my first track, Disappear. I tried to submit my track to radio and was turned down and told that I needed to make more 'ballade' type music. I kept working at it and tried working with different producers and eventually decided that I wanted to make an album but just couldn't find the right producer to help me.
I was fortunate enough to meet Kimosabe in 2015, who truly showed me the meaning of creating music you love. As soon as I started working with him, I realised that we were on the brink of creating something special and so I began working with Orgella Media and Blacksmith to help me publicise and bring this journey to life. A year later, I decided that it was finally time to release this album to the world and here we are today.
Tell us about your single, chest pains, what inspired the lyrics of the song?
Chest Pains refers to the intense forbidden love that you have for someone or something and just the thought of losing them is something that you can feel deep inside. The music video depicts this really well. It shows a couple that are having fun together but also shows the dark times when they used to fight. It shows that even though they had those dark times they still love each other and losing each other is too painful to handle.
Which musician inspires you and why?
There are honestly so many, but I would say Alicia Keys. She hasn't changed herself drastically to fit the stereotypes of the world.
Which producer and artist in SA and abroad would you like to work with?
Locally, I would love to work with Kwesta or MiCasa. I believe that they are natural performers and when I listen to their music, it beings a sense of happiness no matter what I am going through, which is exactly what I'm trying to portray with my music. Abroad, I would love to work with Jhene Aiko or Kehlani. I love the freedom of their music and how they use their music to express themselves.
What is the best career advice you have received that you are applying now?
As clichéd as it sounds, 'Be yourself'. When I started on the musical journey, I was always trying to make music like someone else and was so focussed on getting it to sound like other musicians that I forgot who I was and what was important to me and why I started this journey.
Apart from music and modelling what keeps you busy?
I am a senior management consultant in the financial services industry and have just embarked on my cross-continent executive MBA journey at Duke University in the USA where I get to travel to each continent for approximately two weeks at a time and experience the business cultures abroad.
You hold an impressive BSc in Biochemistry & Physiology and a Postgraduate Diploma in Management, did you plan to pursue a career in those fields?
I have always been passionate about health sciences. After completing my degree I wasn't too sure what field I wanted to pursue and was not interested in entering the research world at the time so I decided to take a gap year and focus on my music (with a little bit of studying in between). The following year I decided to do my Postgraduate Diploma in Management at Wits Business School and that honestly opened up so many doors for me. I decided to enter the consulting world to gain some broad business knowledge instead of being stuck behind a desk doing the same work every day. If I had to redo this journey again, I would make absolutely no changes.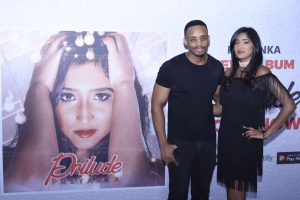 Tell us about your debut album, Prilude, who did you work with, what story did you want to tell and what can listeners expect?
I am really excited to release this album because it is a true reflection of who I am (Hence the name Prilude – an introduction into the life of Priyanka). I worked with some incredible artists and producers in the industry such as Kimosabe, Ameen Harron, Donald, Kapcity, Dr Moruti and Caleb William to create this album.
My genre is a fusion of the music that I'm passionate about (mainly Rnb/soul, House and EDM) and all I want from this album is for people to feel the joy and happiness that I felt while making it.
What is your advice to young people who want to make a success of themselves in any career field they want to venture into?
Something which my parents instilled in me throughout my life was that 'You can do whatever you put your mind to'. That helped me realize that I can conquer any challenge or obstacle that I am faced with and design the life that I want (which leads to the reason as to why I'm studying, working and just released an album at the moment). Don't let society dictate what you can and can't do.
Get Priyanka's album, Prilude at leading music stores
Connect with Priyanka on:
Twitter: @priyankamusicsa