Who says Mondays have to be meatless? Why not cheat the system and try these three delicious meals from our favourite Chef Nono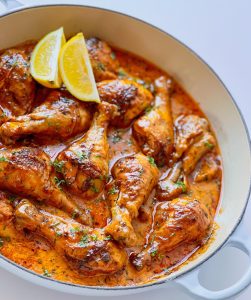 Roast chicken in garlic-prego sauce
Chicken ingredients:
12-15 chicken pieces
3 tbsp Olive Oil
3 tbsp peri-peri spice
4 tbsp lemon juice
1 tbsp dried thyme
Sauce ingredients:
1 tbsp garlic paste
1/4 cup melted butter
1 cup fresh cream
1/2 cup prego sauce
3 tbsp mayonnaise
Method
Combine all the chicken ingredients and roast until cooked.
Meanwhile, mix all the sauce ingredients in a pan and simmer for 5 minutes. Pour the sauce over the chicken and bake for 5-10 minutes. Serve!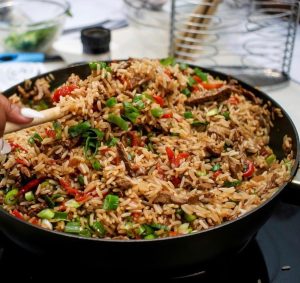 Beef teriyaki rice 
Ingredients:
3 cups rice, cooked
500 g beef strips
2 tbsp cooking oil
1 onion, chopped
2 cloves garlic, minced
1 1/2 cup soy sauce
½ cup lemon juice
2 tbsp brown sugar
2 cups peppadews, chopped
1 cup spring onion, chopped
salt and pepper, to taste (or bbq spice)
Method:
Heat one tablespoon of oil in a pan and cook
onion and garlic until translucent. Add the strips,
season and cook for 8-10 minutes.
Add the soy sauce, lemon juice, and brown
sugar and stir well.
Let this sauce cook for 2-3 minutes on medium
heat. Now add peppadews, rice & spring onion and
cook for a further 2 minutes. Enjoy!
Lemon and herb chicken recipe: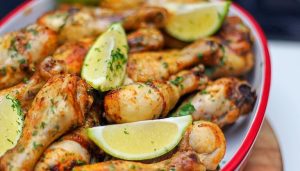 Ingredients:
10 – 15 drumsticks
1 tsp dried oregano leaves
1/2 tsp dried thyme
1 tbsp coriander
3 tsp smoked paprika
3 or 4 tbsp cajun spice
2 cloves garlic, minced
2 tbsp olive oil
2 tbsp lemon juice
2 tbsp parsley, for garnish
Method:
In a big bowl, season chicken with dried oregano, dried thyme,
coriander, smoked paprika, salt, pepper and garlic.
Pour olive oil and lemon juice over the chicken legs.
Toss everything very well. Marinate.
Preheat the oven to 180°C. Place the chicken pieces in a baking pan.
Roast for 1 hour or so until it begins to brown.
Garnish with lots of fresh parsley and slices of lemon.
Connect with Chef Nono on:
Facebook: Facebook.com
Instagram:  Instagram
Be sure to get her new cookbook. You can order it from her social media account.
Source and images: Instagram