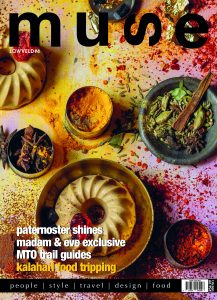 Nicky McArthur has been in the media industry for more than 20 years. She shares with us how her journey has led her to start her own magazine, as well as her success tips
Share with us how you were able to build longevity in the media space, especially as a freelancer.
It takes time to build up a profile and a reputation as a writer, freelancer and media correspondent. I have been in the industry since 2000 and I still use my contacts from the old days. It is all about building contacts and relationships, loyalty, equality and respect. There are so many writers, journos and freelancers in South Africa but I find we don't compete, instead, we rally each other on, pass on work, and ask advice.
You also edited niche publications over the years, what are some highlights and challenges of this role?
In London, I worked for Decanter Magazine, part of the Time Warner Group. It was there I learnt the ropes from the bottom up. The coffee maker, the image sourcer, the shoot organiser, and finally I got to write and had my first article published. Of course, I learnt a lot about wine too.
I started my South African journalism career at Caxton's People Magazine and this was just pure unadulterated fun. It was a young, fresh and vibey brand and had a team to match under the brilliant Andrea Caknis. Everyone who worked there loved the brand and you could see it in the magazine we produced. The content was also fun – celebs, fashion – so there was always a press junket in LA to attend or Prime Circle popping in for tea or a makeover shoot in the building.
My biggest challenges have been working for media companies that have closed down. A lot of my contemporaries have been through this too, with Covid-19 causing many magazine closures. It's always a shock as most of the time there is no warning. The hardest part is having to let your team know the job is done, there is no money… Devastating.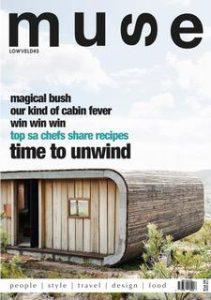 You are a publisher of Muse Magazine, which you launched in July last year, share with us the inspiration behind creating this publication and who is your target audience?
I worked for a beautiful local magazine in the Lowveld, which unfortunately closed during Covid. I thought now is the time to do something by myself. Put myself out there. Muse Magazine is a dream realised, a baptism of fire and everything in between. A muse is a source of inspiration and that's what I want this magazine to do; inspire and stimulate people's love for design and architecture, food and wine, travel and adventure and, of course, people. It is everything I love in a magazine. An excellent read that looks good too, and I hope my readers feel the same way. Muse is a lifestyle mag that targets a wide demographic across SA. We are a proudly SA magazine and hope to showcase all the cool stuff and people SA can be proud of.
Describe your busiest day
Juggling life and work is always busy but the busiest days are always deadline – making sure ads are in, edits have been made, approvals are done and then when I am distributing the magazine, I am literally in the car, dropping off Muse at local suppliers, all week.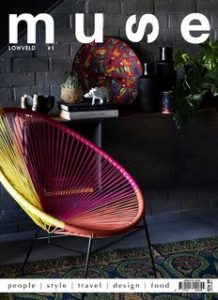 For someone who wants to start and maintain a successful freelancing career, what, from your experience, is the best way to go about it?
Approach magazines you love because you want to write about the content you love. If sheep shearing is your thing, then contact Farmers Weekly. Offer to write something for free or cover an event. This will get you in the door and allow editors to see your style. Share your portfolio of written work. Offer up great story ideas that are suitable for that particular mag. Editors are busy and often don't have time to brief in ideas. Always make sure you stick to word counts and always edit your stuff. Create headlines, teasers – make the editor's job easier and provide accompanying high-resolution images.
Who, locally or internationally, would you like to interview for a feature and why?
I have been lucky enough in my career to interview several celebs, including McDreamy (Patrick Dempsey), Kim Kardashian, Rob Lowe, Donald Sutherland and more. Interviewing the stars of Bold & Beautiful and Days of our Lives was always very entertaining. Nowadays, I would love to chat with Jamie Oliver. Such a great chef, businessman, family man – very inspiring.
Is Trevor Noah still considered local? If there was ever an inspiring South African! Otherwise, rugby player Siya, 5FM DJ Zanele Potelwa… the list goes on. If they are inspiring, Muse wants to profile them.
Which is your favourite holiday destination and why, are there other countries or places you would like to explore? 
I travelled a lot in my twenties and lived abroad but I never got to South America so that's on my bucket list! I love the beach – whether it's Mauritius, Thailand or the KZN south coast – I am happy by the sea.
What is your definition of success and do you feel you have achieved it?
Success is creating a brand that gets talked about, that people recognise and actually like and that makes money – that's my success measurement tool right now. Have I succeeded? Always working towards it.
What other career goals would you like to achieve?
At some point, I would love to get into book publishing and perhaps even achieve some writing goals of my own. I love books and finding new manuscripts that you know will wow must be very gratifying.
Lastly, what are your success tips for young people?
Don't be afraid of hard work. Don't be afraid of working for a pittance. Accept that level entry job – work your way up from a grassroots level. You'll learn more about the company and the people and what makes the institution tick. Don't be afraid to speak up. And always put your hand up.
Visit: Muse Magazine