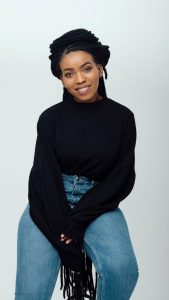 Renowned businesswoman Bonnie Meslane has been shortlisted for the Umhlobo Wenene presenter gig. The 31-year-old shares where it all began and her success tips for young people
Share with us what or who attracted you to entertainment, especially broadcasting?
I have always dreamt of being on TV and radio from when I was a little girl growing up in Mqanduli. I listened to a lot of radio, and I just knew it would be something for me. I was always very curious, I love knowing about things and people, entertainment became second nature to me and also having to work now in the industry heightened my desire to be a broadcaster. I have always loved journalism and the different voices I grew up listening to.
You have had an impressive career in the media, PR and radio, what have been some highlights and challenges of your 10-year career?
I have been so blessed to do what I truly love. I would say working for Black Coffee when I was starting out was one of the biggest highlights. I worked on a lot of amazing accounts in PR, I did Nicki Minaj's concert while at Total Exposure, I worked on the Viacom – BET, MTV & MTV Base account and the Standard Bank Joy of Jazz as well as the South African Music Awards. In terms of radio, working as a content contributor for Phumzile Zonke and producing for DJ Sbu opened my eyes to radio and what radio should be like. DJ Sbu is an incredible broadcaster, I got to learn a lot about production and making a show a success.
You founded a PR company Azania Public, share what services you offer, who your clientele is what sets your company apart from others
My beautiful baby, Azania Public! I started the company in 2017 and I have been extremely blessed to have clients such as Universal Music, Blackbrain Pictures, Centre for the Less Good Idea, Kelly Khumalo, Simphiwe Dana, the Nelson Mandela Foundation, the Graca Machel Trust, Anele Mdoda, Honey TV, Tems, Patoranking, MNS Attorneys and so many others. We do PR, brand strategies, copywriting, media training and social media management.
Our work speaks for itself. We are a group of driven, ambitious, hard-working and result-driven people. We love what we do and it shows in the results. That sets us apart.
How has your career prepared you for your entrepreneurial journey, what lessons and leadership traits did you learn from the corporate industry that you are applying to your business?
Whew! Running a business is not an easy thing but it is certainly very rewarding and worthwhile. I got to learn to be kinder to people, be more patient and be assertive. I am also a people's person so I know how to make people comfortable and feel at ease. The journey is lonely and can be excruciating at times but you also get to see that no two days are the same. Saving money is also very important and especially when you work in the industry that I am in.
What is your definition of success and do you feel you have achieved it?
I have worked with every local personality/celebrity I have always wanted to work with. That is somewhat successful. I have done well and have never been without a job and that is somewhat being successful. I have big dreams for my company and our staff and the goal is for all of us to be comfortable and content. Until that is achieved, I am not very successful. I am hungry for more.
Congratulations on being shortlisted for the Umhlobo Wenene FM presenter job, why do you want to be behind the mic, and when (not should) you win, what will listeners expect from you?
Thank you so much! I am super excited about this journey. It took a lot for me to even enter the competition. I have always been the girl behind the star even though I have the biggest dreams that require me to step out of the shadows and into the light. I guess now is the right time for me to pursue my dream and live it. When I win, listeners are in for a treat. I am not only knowledgeable and the queen of pop culture but I am compassionate, a listener, I have a kind word for everyone and I have great humour for the sad ones that need cheering. I am ready to inspire a lot of people to live out their dreams and leave fear behind.
What are the misconceptions you feel people still have about PR, and what kind of person thrives in this industry, especially as a business person
People don't think they need PR when in actual fact, they do. People will always think of PR as last when they have failed. That is to their detriment. As part of any business strategy, there must be good PR. People also think PR people are celebrities, we aren't.
To make it in PR, you must have a heart for people – media and your clients, be curious, know everything, read, be kind because our industry is small and you will need the next person. Be persistent, creative and have fun!
How big is your team and how is your leadership style?
My team is fairly small, there is eight of us, six in Johannesburg, one in Kenya and one in East London. We also have a sister company in Germany led by Erin Barber.  I am a fun boss yet very strict and very involved. I allow people to do their thing but also encourage teamwork for us to grow and learn from each other. I am always pushing for results and often host workshops to impart knowledge and mentorship. I have an excellent GM, Sisonke Labase, she is the glue holding everything together. She is Azania Public.
What is the best business advice you have received that you apply in your company?
To not bring personal relationships into my business. To ask for money I'm worth and not be shy about it and also to have contracts so I don't get taken advantage of.
Apart from your business and chasing that radio gig, what keeps you busy and fulfilled?
I own a new lifestyle magazine Nounouche with my friend Tamara Leidenberg who is based in Munich. Sekelwa Mpambo is our editor, it excites me and it is also a dream come true. I have always seen myself writing and owning a magazine. I also work out a lot, I have registered for a few marathons this year. I am an avid reader, I buy books every time.
Do you have a mentor? Why/ why not? What role do you think mentors have for one's journey to success?
Noni Gasa is my mentor (she may or may not know this). Judith Mugeni is another one. Thembisa Marele is another and Rosie Motene. They all bring mature sound advice and guidance. I am grateful to have them in my life.
What are your success tips for young people?
Go after your dreams and do not limit yourself. Your mental health is important, and so is your spiritual nourishment. Work hard, drop the entitlement, earn your stripes and be unapologetic. Have fun- work must be fun. A lifestyle.
Please share where and how people can vote for you.
Please vote for me, SMS Ulonwabo 1 to 45858 as many times as you can and voting ends on March 31, 2022.
Catch her on February 23 from 15:00 to 18:00 as she will be co-hosting alongside Amaza Ntshanga on the popular drive time show Masigoduke.
Catch Bonnie on social media:
Bonnie Meslane on Facebook
@sisboniswa on Instagram.
@Bonnie Meslane on Twitter
Vist: Azania Public