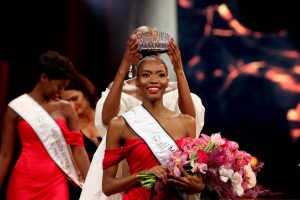 KwaZulu-Natal's Lalela Mswane has been crowned Miss South Africa 2021 at the glittering pageant finale held at Grand Arena, GrandWest in Cape Town over the weekend.
Miss South Africa 2021 Lalela Mswane hails from KwaSokhulu in Richards Bay and has graduated with a bachelor of law from the University of Pretoria. She is also a model and a dancer. She shares:
What issues do you aim to address during your reign as Miss South Africa 2021?
"During the journey towards this title, I made unemployment the cornerstone of all the causes I care for because it not only affects our youth but is the source of many of the social ills so prevalent in South Africa. It is now my duty as Miss South Africa to ensure that I start the conversation about unemployment amongst our youth and seek meaningful solutions, which will have long-lasting effects on its rebate.
https://www.instagram.com/p/CVI_bbhlwy8/
What do you aim to achieve through your campaign?
My campaign aims to offer support to young people to create their own employment opportunities by means of entrepreneurial skills and, in doing so, empowering them to be self-sufficient and to secure their own economic futures. I neither take the magnitude of the task lightly nor for granted because I know unemployment is a complex issue. But action towards its reduction is necessary today more than ever. Let us get ready to create and build healthy and sustainable entrepreneurial opportunities, take ownership of and shape our own futures. There's never been a better time to do so!
Is there anything you want to say about your crowning?
A heartfelt note of gratitude to my fellow Miss South Africa 2021 sisters for making this journey so incredibly amazing. My beautiful South Africa, now that I have been so warmly welcomed into your hearts, I hope to bring you as much joy and pride as I can. My role now is to encourage, inspire, give hope, and continue to work and build onto the legacies of Miss South Africa's past. I intend to live by every word I have expressed and to serve, lead and represent our beautiful nation to the best of my abilities.
Connect with Miss SA 2021 on
Images: Supplied