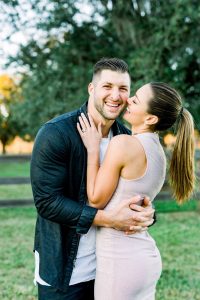 23-year-old former Miss Universe, Demi-Leigh Nel- Peters got engaged to fiance and American football star, Tim Tebow in Florida, USA. 
South African born Miss Universe 2017, Demi-Leigh Nel-Peters said the big "YES," on Wednesday (09 January 2019) when her man, Tim Tebow proposed to her. According to PEOPLE.COM, the former football star Tebow had secretly flown Nel-Peters' family and closest friends from South Africa to Florida to witness the engagement and joined in the party.
The former NFL quarterback and current Major League Baseball outfielder for the New York Mets secretly flew Nel-Peters' parents – father and stepmother Bennie and Elzabé Peters and mother and stepfather Anne-Mari and Johan Steenkamp – and some of her closest friends to the US for the occasion.
Tebow also flew in South African artist Matthew Mole to play Nel-Peters' favourite song for them as he popped the question.
In a romantic setting at the Tebow family farm on January 9, Tebow proposed to Nel-Peters in Jacksonville, Florida in the US. The pair has been dating since last April after meeting through Tebow's non-profit organisation's beacon event, Night to Shine.
Flashing her flawless 7.25 carat diamond engagement ring, Nel-Peters said she was ecstatic and hadn't stopped smiling since Tebow popped the question
Tim Tebow took to Instagram the news and said, "Thank you for saying YES and making me the happiest man in the world. You're the love of my life, and I can't wait to spend the rest of my life with you.."
Demi-Leigh also shared a sweet post, stating, "Any dreams I've ever had, you've exceeded them all! I love you and I can't wait to spend forever with you!"
Congratulations to the newly engaged couple.
Source: supplied, people.com and Instagram
Image source: Kelly Braman Photography and Instagram